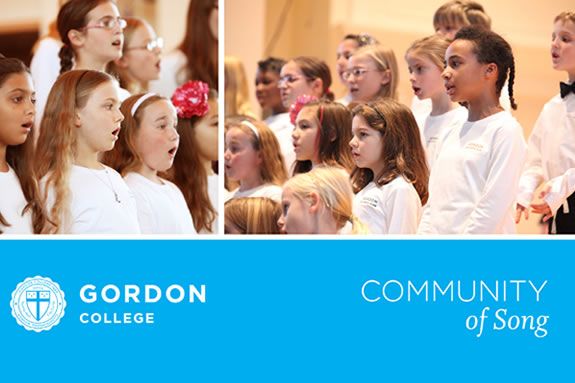 Open to children in grades 1 – 8 from all communities on the North Shore, we nurture student musicianship, build confidence, and encourage artistic expression through developmentally appropriate vocal instruction.
Complete our online registration form today!
The Children's Choir provides and ensemble experience that allows students to develop musically as individuals, while contributing to the joy and artistry of singing together with their peers.  We believe that students of varying ages can learn from each other by leading and working together to create something beyond the individual.
Rehearsals take place on Monday afternoons, from 4:30 – 5:30 pm in Phillips Music Center at Gordon College, with one to two performances each semester including the annual Gordon College Christmas Gala, the largest Christmas Concert celebration on the north shore.
Students benefit from the instruction of choir directors who have studied in Gordon College's highly regarded undergraduate and graduate programs in music education, and from the leadership of Artistic Director Dr. Sandra Doneski, recipient of the Massachusetts Music Educator's 2012 Distinguished Service Award, and 2013 Visionary Leadership Award.
While auditions are not required, informal interview appointments are required of each new student.
(Appointments only take 5 minutes; dates and times available in April and May)
Visit www.gordon.edu/childrenschoir to register and to learn how to schedule an introductory appointment.
Location: Phillips Music Center, Gordon College 255 Grapevine Road, Wenham, MA 01984
When:
Monday, April 21, 2014 4:30 pm – 6:30 pm
Saturday, May 3, 2014 1:30 pm – 3:00 pm