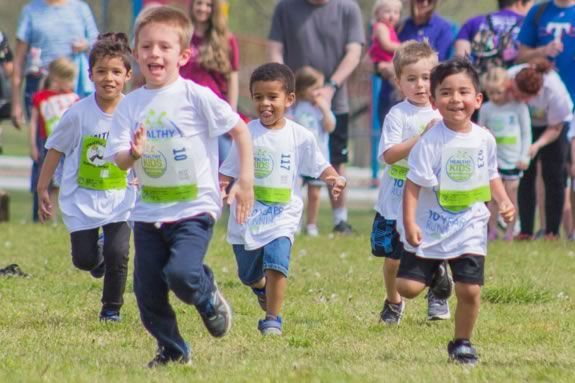 Healthy Kids Running Series is a five (5) week running program in the spring and fall for kids Pre-K through 8th grade. Each HKRS Series takes place once a week and offers age appropriate running events including the 50 & 75 yard dashes, the 1/4 mile, the 1/2 mile and the 1 mile run. Kids compete each week for a chance to earn points. At the end of the Series the boys and girls who accumulate the most points in their respective distances are awarded trophies.  All participants receive a medal on Week 5!
This Series offers a Challenger Division which is an adaptive 75 yard race for children with disabilities and/or special needs. This allows for parents, siblings, and friends to be on the course with runners to provide support as well as supportive devices such as crutches, braces, wheelchairs, etc. to be used by runners. 
The registration fee covers the entire five (5) weeks of the Series which includes race bibs for each week, a runner shirt, a finisher medal and any sponsor giveaways. Registration is non-refundable and non-transferrable.  Online Early Bird registration is $40.00 and then increases to $45.00 three weeks prior to the first race event. Single Race Registration options are available for $20 per race.
When:
Sunday, September 24, 2023 3pm
Sunday, October 1, 2023 3pm
Sunday, October 8, 2023 3pm
Sunday, October 15, 2023 3pm
Sunday, October 22, 2023 3pm