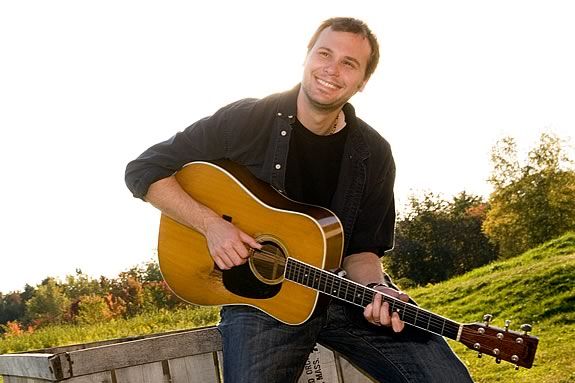 Bring the whole family for an evening with one of Boston's  premier folk artists. Families of all ages are welcome. No registration necessary, free and open to the public.
Nearly twenty years into his performing career, 2014 Grammy-nominated musician Alastair Moock has managed to carve out a unique niche for himself: He is a songwriter committed to celebrating the roots of American music while knocking down the walls between different audiences, genres and musical traditions. Today, his audiences range from adults all the way down to preschoolers, and he plays everything from nightclubs to theaters to schoolrooms. Like his boyhood hero, Woody Guthrie, Moock believes in the power of music to reach all people — young and old, far and wide, for all occasions. 
Moock's newest album, Singing Our Way Through: Songs for the World's Bravest Kids, which is nearest and dearest to his heart. In July of 2012, one of Alastair's daughter's was diagnosed with leukemia. The Singing Our Way Through project began when they started writing songs together in the hospital. Over the next several months, Moock continued to write and collect songs that reflected his family's experiences – the love, the pride, the surprising amount of joy, and some of the more difficult parts too.
The Making of 'Singing Our Way Through'
Moock decided he wanted to record an album for other families traveling similar paths. With the help of an amazing fundraising campaign and the musical talents of friends including co-producer Anand Nayak, Chris Smither, Aoife O'Donovan, Rani Arbo, Mark Erelli, The Okee Dokee Brothers, and (fellow 2014 Grammy nominee) Elizabeth Mitchell, Moock released Singing Our Way Through in July, 2013. Since then, more than 2,500 albums have been distributed to hospitals, cancer organizations and patient families around the country.
These Are My Friends
When:
Wednesday, July 13, 2016 at 6:30-7:30