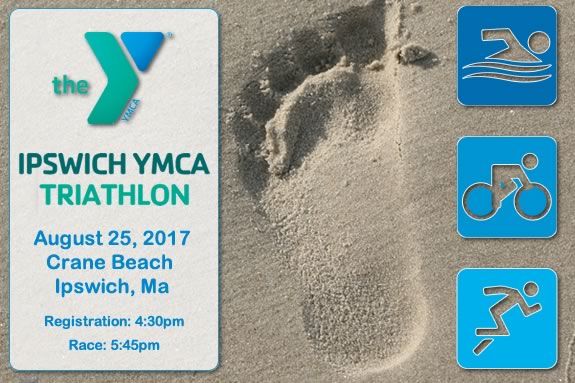 Run, swim and bike a YMCA sponsored triathlon at Crane Beach in Ipswich Massachusetts!  The course is a ½ mile ocean swim followed by a 2 mile beach run consisting of varied terrrain (sand, rocks, grass, pavement, and trails) and a 9 mile bike ride finishing back at Crane Beach.
Field limited to 200 entrants.
Ages 16 and up
No entries under the age of 16 without supervision throughout the race
Wet suits permitted for swim
No floatation devices, fins, or snorkels
Swim caps MUST be worn during swim
Running shoes strongly recommended
Helmets MUST be worn during bike
No bikers allowed out on course past 7:00pm
Pre-Entry by Wednesday, August 23, 2017 by 5pm.
When:
Friday, August 25, 2017 4:30pm (Registration)
Race Start: 5:45pm