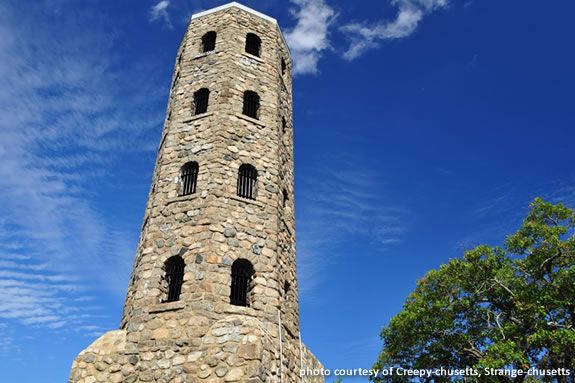 Celebrate National Trails Day at Lynn Woods with Friends of the Lynn Wood and ECGA.  Lynn Woods Reservation is the second largest municipal park in the greater Boston area. This 2,200 acre forest reserve consists of ponds, wetlands, streams, deciduous & evergreen forest and rocky ledge. The ponds provide the drinking water for the residents of Lynn and surrounding communities. Wildlife abounds in the forest. More than an aquifer, wildlife preserve, wilderness experience, Lynn Woods is a unique adventure.
Plan on a somewhat strenuous,  3 hour hike.
This walk will not be suitable for young children or those with limited mobility.
Bring water, hat, insect repellant and sun screen.
Camera/binoculars recommended.
Hike will leave from the Penny Brook Road parking lot off Walnut Street. Look for Greenbelt Event Here signs to check in
Thanks to Creepy-chusetts, Strange-chusetts for the awesome Lynn Woods Tower photo!
When:
Saturday, June 4, 2016, 9:00 AM