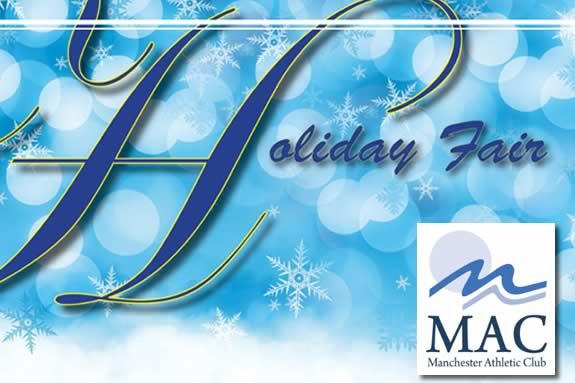 Save the date! The Holiday Fair at Manchester Athletic Club is a spectacular shopping experience for the people who will visit the holiday arts, crafts, and gift event. Get your Holiday shopping done EARLY!
The MAC Holiday Fair offers opportunities to find that one-of-a-kind gift for the Christmas Season. Last years exhibitors include more than 50 crafters and commercial vendors. Plan now to be a part of this year's event. If you have interest in exhibiting your arts, crafts and gifts, space is available. Contact Marcy today!
Batter Up Bakery
Silpada
Glosta Joes
Leavitt and Co
Carol the Wallflower Organic Soaps
Scentsy
ACAT Designs
Good Morning Gloucester
Good Earth Candles
Dinner Dealer
Priemlov
Premier Imprints
Grant Family Farm
Mary Rose Vintage Design
Rusty and Ingrid Creative Company
Sand & Sea Jewelers
Wicked Kreations by Jim
Scented Angel Luxurious Bath Products
Essex Ropes
Stellina Bellina Bows & More
Critis Creation
Herlihry Designs
Mary Ann Wenniger Cottage Gallery
Lita Sea Glass
Inspire Jewelry
Gerrys Gewels
Maggie Jones Gallery
Cape Ann Art Gallery of Kathy Roberts
MAC Pilates
Origami Owl
Beadorable Designs
V by the Sea
Biscuits N Bows
Design of Mine
Let's Get Creative
Fashion Fair Jewelry
Intial Outfitters
Rodan and Fields Products
Tavern on the Harbor
Thirsty Golf
Holy Fudge
Pampered Chef
" A" is for Anchor
JAT Design
Thirty One Gifts
Not for Navigation
Again and Again
Soulcove Center for the Arts
Natalie Therese
Top Notch
True North Gallery
Terrariems
KKatlarge
JoJo Knits
Next Step Living
John Angelson Jewelry
Erin Pequeno Stone Designs
Atlantic Blue Labradorite
Gem of the Sea & Sky
When:
Friday, December 6, 2013 from 5 - 8 p.m. Ladies Night Sip & Shop
Saturday, December 7, 2013 from 9 a.m. to 1 p.m.