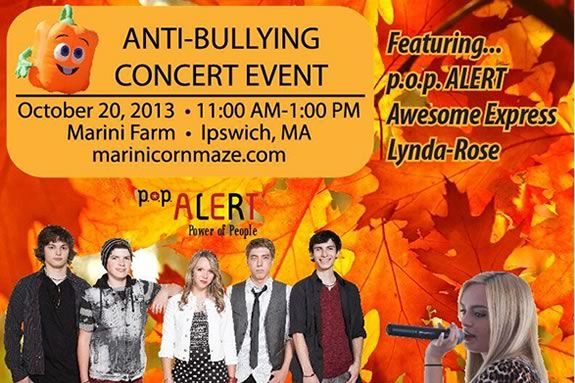 Come to Marini Farm for a FREE anti-bullying awareness concert! To recognize national anti-bullying month, the farm will come alive with music focused on the theme of ending bullying.  Spookley the Square Pumpkin, National Bullying Prevention Month's mascot, will be onsite to teach kids about the disruptive nature of bullying, and to support kids who have been bullied.
p.o.p. ALERT will hit the farm's stage and perform original music focused on bullying, and host special performances from other young musicians Awesome Express and Lynda-Rose. Based out of Boston,  p.o.p. ALERT is a five-member teen power-pop/alternative rock band comprised of four boys and one girl; Cameron, Johnny, Jesse, Alex, and Rachel. They range in age from 13 to 17. "p.o.p." represents the "power of people.", and the band is dedicated to spreading an anti-bullying message to other youth. 
is the story about a pumpkin who lives in a world where "the only good pumpkins are round pumpkins," Spookley is shunned and teased by the other round pumpkins until one day during a terrible storm he gets the chance to make a difference. In The Legend of Spookley the Square Pumpkin, a unique pumpkin delivers a special message of tolerance and self-acceptance that's just right for Halloween or any day of the year. Spookly is available in book format, for your smart device and there's even an animated DVD of Spookly's adventures!
When:
Sunday, October 20, 2013 10am-5pm