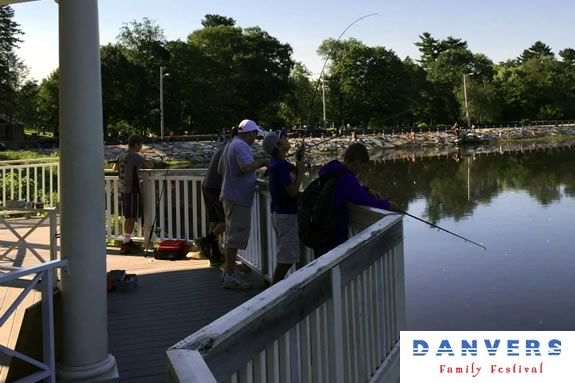 This event is FREE and no pre-registration is required.  Danvers Family Festival tradition continues this year with the Annual Danvers Recreation Fishing Derby in Memory of Mike Gordon. The fun family event will start at 8:00 a.m. and end at 11:00am sharp. (All fish must be weighed-in by 11am). Anglers of all ages will line the perimeter of the picturesque Mill Pond in Danvers and cast their lines in the morning air. Hoots and hollers can be heard as kids and their parents make a catch! (Mainly perch, catfish and pickerel)
The rules of the derby require the catch to be released immediately after it is weighed by the judges. Some worms will be available, but it is recommended you bring your own bait.  You should also bring a bucket so you can carry your catch to the weigh station.
Trophies (and bragging rights!) will be awarded to the top 3 Family\Team entries.  A maximum of 5 members per Family\Team.  
BYOB - Bring Your Own Bait
This is a catch and release event.
Rain or Shine
When:
Sunday, June 24, 2018 8-11am