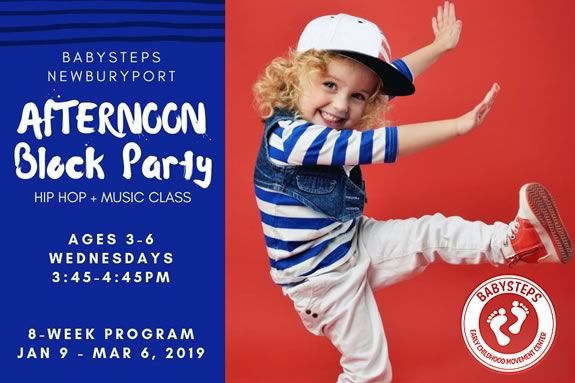 Newburyport BabyStep's 8-Week Afternoon Block Party at is open to boys and girls ages 3-6 years old. This is one-hour class starts with 30 minutes of hip hop dance, followed by a 30-minute "free-style", instructional music class.
8-WEEK WINTER SESSION | Wednesday, January 9th - Wednesday, March 6th, 2019
(Classes will not be held on Wednesday, February 20th, due to Massachusetts School Vacation).
REGISTRATION OPTIONS
Full 8-Week Winter Session - $135.00*
Flexible Daily Drop-In - $18.00 / Day
*Receive (2) Free Mornings of Babysteps Classes when you register for the full 8-week session. ($36 Value. Cannot Be Redeemed for Cash).
When:
Wednesdays, January 9-March 6, 2019 3:45-4:45pm
No class on February 20th due to Massachusetts School Vacation
Prices:
Full 8-Week Winter Session - $135
Flexible Drop-In - $18/class