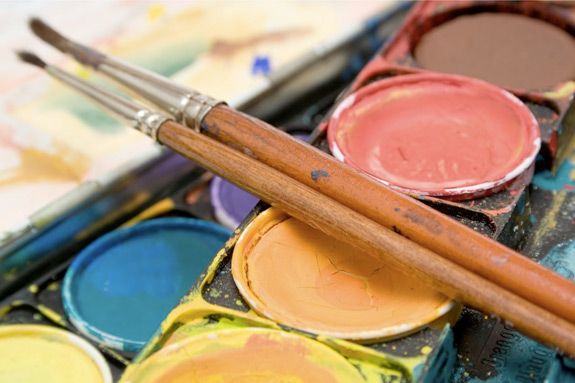 The annual Newburyport ArtWalk takes place in historic downtown Newburyport and includes painting and jewelry demonstrations, artist question and answer sessions, live music, food and drink as well as other activities for the whole family.
The ArtWalk is a self guided tour of Newburyport galleries that can be done at any time of the year.
During ArtWalk Special Event Days, held four times a year, the Newburyport Artists and the Newburyport Art Association invite you to enjoy special gallery themes, artist receptions, light refreshments, new works of art at destinations all within walking distance around town.
For a self-guided tour, start at any gallery, pick up a map or download it here, and continue to the other galleries.
For a free guided tour, gather at Market Square in front of the Firehouse Center for the Arts at 3PM for a 1 hour walking tour of outdoor sculpture along the waterfront, the brick-paved Inn Street Market Place, and galleries and studios in some of the city's architectural gems.
Music and refreshments is provided at many galleries.
The ArtWalk brochure with map is available at galleries, the Newburyport Chamber of Commerce, the middle passage way between State State and Inn Street, and many restaurants and inns. For more information please visit online at www.newburyportartwalk.com or find Newburyport ArtWalk on Facebook.
Art Walk scheduled gallery events include:
Newburyport Art Association
65 Water Street
978.465.8769
A member-based organization since 1948, three galleries play host to numerous juried, open and individual shows, a unique Gift Shop, plus art classes and workshops for students of all skills and ages year-round.
Nantucket Stock Exchange Too
117 Water Street
978.499.0600
Featuring fine art, folk art, scrimshaw, whirligigs, sailors valentines, nautical antiques and one-of-a-kind art objects.
Indigo Artist Studio
53 Middle Street
978.500.0564
Indigo Artist Studio features contemporary work in monotype, mixed media and oil. The studio features new original art by artists Mary Arthur Pollak and Lillian Coolidge.
Lepore Fine Arts
37 Liberty Street
978.462.1663
After 22 years on the historic waterfront, Lepore Fine Arts has moved their collection of 19th and 20th century American paintings to 37 Liberty. Our new space is a collaboration with Fox Brothers Studio, long known for their fine handcrafted furniture.
Chameleon
18 Liberty Street
978.463.7623
An ever-changing collection of fine art, jewelry, objects, and whimsy.
Bridge Gallery
1R Water Street
978.462.2740
A cooperative of local and regional artists featuring representational and abstract landscape, still life and figurative paintings.
Valerie's Gallery
26 Street Street
978.499.8444
Fine American crafts, jewelry and artwork from local and national artists.
Sweethaven Studio and Gallery
25 Inn Street
978.465.7656
Sweethaven Studio and Gallery is dedicated to the art of photography featuring the landscapes of Newburyport and Plum Island by Greg Nikas. Located directly below Valerie's Gallery with an entrance located in the Inn Street Mall.
Sisters We Three
57 Pleasant Street
978.462.4500
Sisters We Three is an artisan shop which carries an eclectic mix of fine art and handmade goods from all over New England.
The Churchill Gallery
6 Inn Street
978.462.9891
Founded in 1972, The Churchill Gallery was one of the first businesses to open during Newburyport's historic restoration. Representing respected local artists initially, the gallery now showcases the work of exceptional artists, both established and emerging from across the United States.
Spirit of Newburyport Studio
1 Inn Street - Unit 7
978.465.8855
Newburyport city/land/seascape prints and gift items by local photographer and artist Jon William Brown.
Firehouse Center for the Arts
Market Square
978.462.7336
The Firehouse features nine gallery shows a year. Gallery exhibits have included local, national and international artists. Open Wednesdays through Sundays.
Somerby's Landing Sculpture Park
Waterfront Park - on the west end of the boardwalk next to the Black Cow Tap and Grill
978.768.3600
Year-long contemporary outdoor sculpture exhibit by New England and national artists.
The Walsingham Gallery
47 Merrimac Street
978.499.4411
Committed to offering artistic excellence in an evolving collection including classical realist, impressionist and abstract works by acclaimed national and regional artists. An extensive selection of paintings and bronze and stone sculpture complement our historic building on the waterfront.
Connor Summers Gallery
48 Market Street
978.462.9196
A collection of fine art by contemporary and listed artists housed in an 1812 Federalist building. Museum quality framing services available on premises.
MPG Home Design
5 Traffic Circle
978.462.7500
Located in a 2000 sq ft former motorcycle repair shop, this gallery and showroom features art, vintage furniture and a home design center. The store specializes in contemporary art and representing artists from coast to coast, including paintings, jewelry, artful furniture design and more.
Alan Bull Studio
18 Graf Road, Unit 18
978.417.9778
A studio, classroom and gallery featuring paintings, monotypes, and drawings by Alan Bull. Located in the Newburyport Industrial Park near the Rail Trail; open year-round by appointment.
When:
Saturday, October 20, 2012 3-7pm
Sunday, October 21, 2012 1-5pm