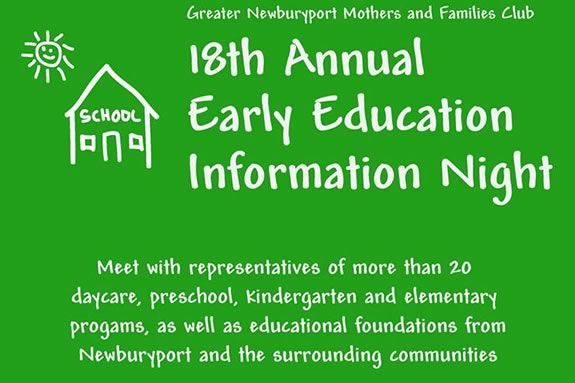 Join the Greater Newburyport Families Club for our 18th Annual Early Education Information Night! This event is open to the public and there is no charge to attend! Bring a friend! Spread the word! Are you wondering where your little one should begin that journey of learning (including preschool, kindergarten and some elementary schools)? Would you like to learn about the Education Foundations that are enhancing the quality of schools in the Greater Newburyport area? If you answered yes to any of these questions, then you should attend this event!
Come join us for a comprehensive overview of area's early education programs. Representatives from the schools and the area education foundations will be in attendance to answer any questions you may have.
This is one of our most popular events, and it is a chance to meet with all of our local schools in one night! In a "college fair" style, each school will have their own table, staffed with a teacher or administrator. Visit the schools you are most interested in and learn about their philosophies, environment, structure and curriculum.
There is no charge to attend this event, and it is open to the public - so bring a friend!
When:
Wednesday, November 8, 2017 6:30-8pm