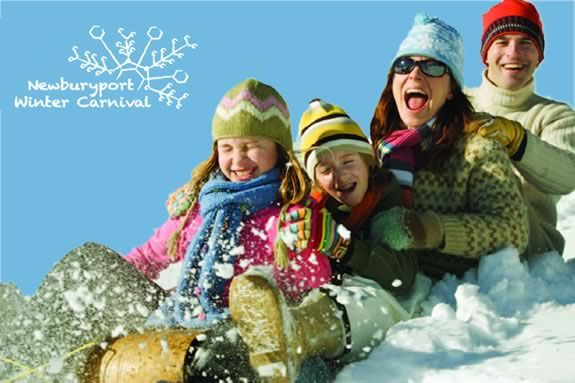 Note:  This event has been cacelled due to the unseasonably warm weather!
As long as Mother Nature cooperates, the annual Winter Carnival will take place on Saturday, January 28, 2012. This annual event has only been canceled once, so we're hoping for a little cold and a little snow to get the show started at the Bartlet Mall in Newburyport.
The free event is hosted by the Newburyport Parks Commission and Newburyport Youth Services.
Activities, weather permitting, will go from 11 a.m. to 3 p.m. They include skating, sledding and snowboarding throughout the day, horse-drawn hayrides provided by Scott Colby of Colby Farm. Outdoor gear retailer REI will return to offer snowshoe demonstrations and free rentals.
The fourth annual Human Dog Sled Race will finish off the day with prizes awarded to winners in two categories: speed and sled design.
The Newburyport Mothers Club will offer outdoor activities for children at the Pond Street end of the mall, while Newburyport Youth Services will be leading the fun indoors at the former Kelley School on High Street. Children ages 2 to 5 will enjoy entertainment by Knuckle Bones, a company that provides activities based around movement, tumbling, sports and more.
The Kelley School Youth Center will offer restrooms and a place to warm up.
Event-goers will be able to purchase hot dogs, hot pretzels, popcorn, drinks and white chocolate-dipped sweets made by members of the Middle School Drop-In Center.
All proceeds will support the youth center, as well as the Newburyport Youth Services scholarship program.
The Rotary Club of Newburyport has stepped up this year to staff the information tent near Pond Street. Free cookies and cocoa and the sounds of WNBP will complete the classic winter theme.
The Winter Carnival is supported by donations from the Institution for Savings and the Newburyport Five Cents Savings Bank. Contact Lise Reid with questions, to volunteer or for more information.
When:
Saturday, January 28, 2012 11 - 3