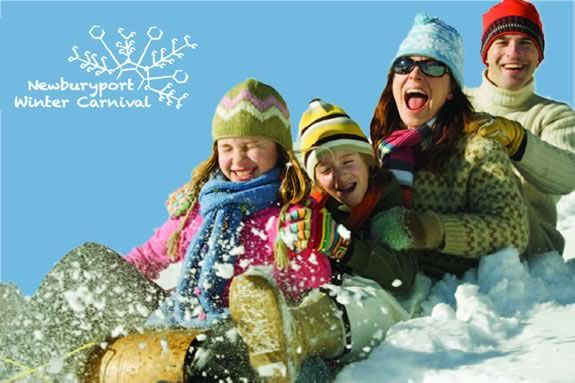 The annual Newburyport Winter Carnival is on! The day-long community event promises residents a day of winter fun following a schedule of events similar to years past, including the Fifth Annual Human Dog Sled Race! This free event is hosted by the Newburyport Parks Commission and Newburyport Youth Services.
Activities, weather permitting, will go from 11 a.m. to 3 p.m. They include skating, sledding and snowboarding throughout the day, horse-drawn hayrides provided by Scott Colby of Colby Farm. Outdoor gear retailer REI will return to offer snowshoe demonstrations and free rentals throughout the day.
The fifth annual Human Dog Sled Race will finish off the day with prizes awarded to winners in two categories: speed and sled design. The Greater Newburyport Families Club will offer outdoor activities for children, while Newburyport Youth Services will be leading the fun indoors at the former Kelley School on High Street.
Free cookies and cocoa and the legendary sounds of WNBP complete a classic winter theme for skaters and sliders throughout the day.
The Kelley School Youth Center will offer restrooms and a place to warm up.
All proceeds will support the youth center, as well as the Newburyport Youth Services scholarship program.
The Human Dog Sled Race features teams of five or less comprising one driver and human "sled dogs" who race across the frozen Frog Pond.  Teams will provide their own sled and rope for attaching the sled to the dog team.  Costumes and sled décor are recommended but not required.  Teams should register the day of the event by inquiring at the Information Table.
The Winter Carnival is supported by donations from the Institution for Savings and the Newburyport Five Cents Savings Bank.
Contact Lisë Reid with questions, to volunteer or for more information.
When:
Saturday, January 25, 2014 11am - 3pm