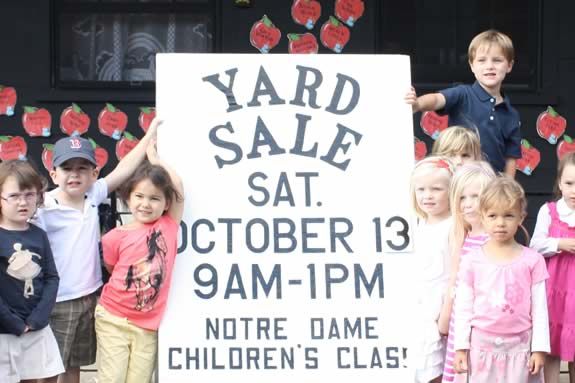 Notre Dame Children's Class will hold its huge annual YARD SALE on Saturday October 13, 2012 from 9:00 AM to 1:00 PM at the school, located at 74 Grapevine Road in Wenham, Massachusetts. The Sale is free, handicapped accessible, and will take place rain or shine. All sales will be final.
A wide variety of items will be available for purchase including children's clothing, baby gear, puzzles, arts & crafts, riding toys, pretend play, books, sporting goods, clothing, bakeware, tools, furniture, home decor, baked goods, and more.
All are invited to attend, browse the wide assortment of articles and enjoy refreshments. Proceeds will benefit Notre Dame Children's Class as well as various charities the school supports.
DONATIONS STARTING OCTOBER 9th during school hours 8:30-5pm
Donations can be dropped at Notre Dame Children's Class
Please No Electronics, Mattresses or broken and recalled items.
When:
Saturday, October 13, 2012 9 AM - 1 PM
Drop off donations starting on Tuesday, October 9, 2012 8:30 - 5 p.m.