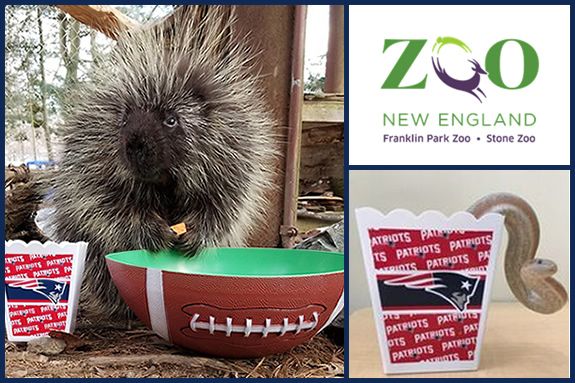 Celebrate six rings with $6 admission to Franklin Park Zoo and Stone Zoo this week.
The Patriots are champions once again! To celebrate six rings, guests can visit Franklin Park Zoo and Stone Zoo for $6 per ticket when they come decked out in their favorite Patriots gear at the Zoos.
This offer is valid for regular daytime admission through Sunday, February 10. Patriots attire must be visible at the time of purchase to receive the discount, and is valid at the admissions booth only. Come celebrate our champs while having a wild time!
Zoo New England manages Franklin Park Zoo in Boston and Stone Zoo in Stoneham. Both are accredited by the Association of Zoos and Aquariums (AZA). Zoo New England's mission is to inspire people to protect and sustain the natural world for future generations by creating fun and engaging experiences that integrate wildlife and conservation programs, research, and education.
"Like" us on Facebook (/franklinparkzoo) and follow us on Twitter, Instagram, and Snapchat (@zoonewengland)!
When:
February 5 – 10, 2019 from 10:00 a.m. – 4:00 p.m.
Please note: Last admission will be at 3:30 p.m.
Prices:
For ticket and exhibit information, visit zoonewengland.org