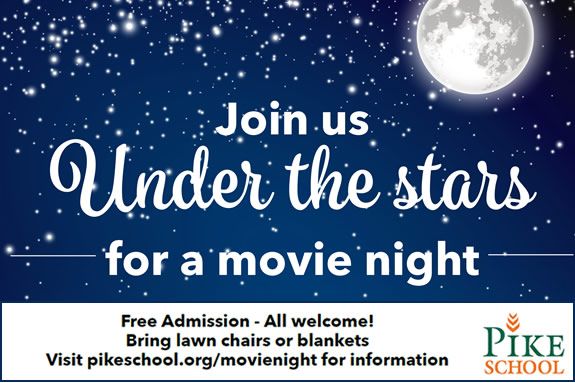 The Pike School in Andover is bringing the community together with a special family event on Saturday, September 23, beginning at 7:00 p.m. Gather your family and friends and bring your lawn chairs to enjoy Under the Stars Movie Night with a special showing of Disneys Moana.
The movie will take place on a grassy field at The Pike School, so bring a chair or blanket to sit on. Snacks, blankets, and bug spray are recommended. Lawn games will be set up for entertainment prior to the start of the film. Parking is super easy at The Pike School so don't miss this special evening with family and friends.
Admission is FREE. All of the community is welcome. RSVP here to ensure plenty of free popcorn for everyone.
The Pike School is an independent, coeducational day school located on 35 woodland acres in Andover, Massachusetts. Its comprehensive and sequential program provides education to students from Pre-K through Grade 9. Small class size and individual attention allow for social, emotional, physical, and intellectual development of the students within the context of the school community. To learn more, click here.
Disney's Moana Movie Trailer
When:
Saturday, September 23, 2017 beginning at 7:00 p.m