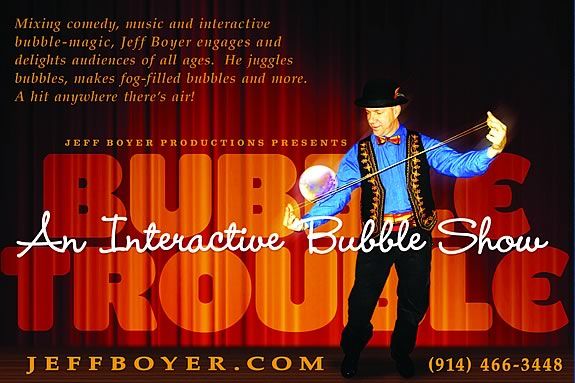 The Peabody Institute Library - Danvers is in big Bubble Trouble! A bubble volcano. Bubble roller coaster. A kid in a bubble? Jeff Boyer takes bubbles to the max in this one-man bubble extravaganza. It's the craziest, most creative bubble show around. Jeff juggles bubbles, sculpts and builds with bubbles, makes fog-filled bubbles and more. Mixing comedy, music and interactive bubble-magic with science, he engages and delights audiences of all ages.
A hit at schools, libraries, camps, resorts, cruises, fairs… anywhere there's air! This all ages show will provide comedy, science, and great bubble fun!
Please register by calling and ask for the Children's Room Desk.
Bubble Trouble Teaser
When:
Tuesday, April 22, 2014 10am