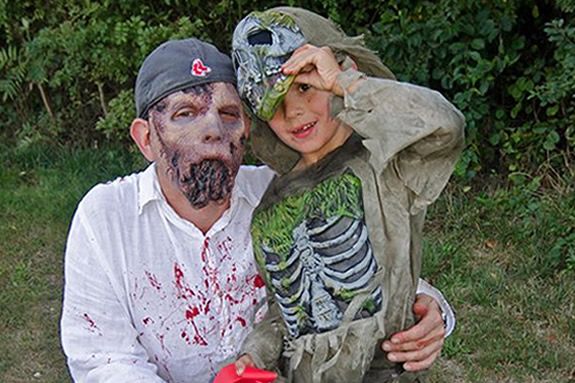 The goal of this race is not to achieve the fastest time, it's survival! Runners will follow the designated course while encountering a terrifying array of the finest Zombies Salem has to offer! Runners will be wearing a flag belt, similar to the ones worn in flag football. The zombies will try to grab the flags off the belt, which 'kills' the runner. Once a runner looses all three of their flags, they are 'dead'. Dead runners will still finish the course and will receive a  medal, and anyone who has any flags left after they finish are 'alive' and will receive a medal with a "survivor" ribbon attached.
Cloudy with a Chance of Zombies
This is a cross country course being run in the late afternoon in historic Salem. Be prepared for 4 laps through Gallows Hill Park facing steep hills, trails, playing fields, gravel roads and some of the scariest Zombies that you have ever seen in your entire life! The 5 kilometer course will be clearly outlined and there will be volunteers on the course to guide and assist you.
Race starts at 4:30 PM, please arrive early and carpool if possible, parking is limited.
The age limit is 12 and up for this event.
When:
Saturday, September 29, 2018 4:30pm