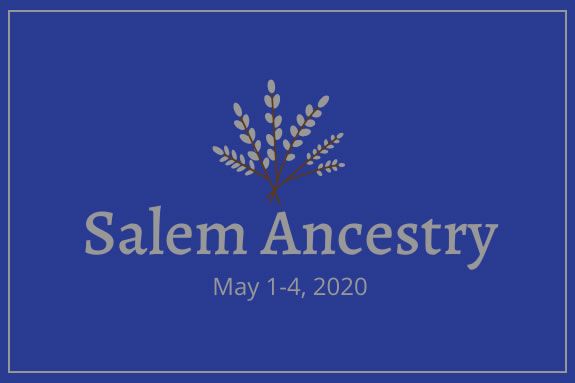 Salem Ancestry Days will celebrate ancestral and immigrant connections to Salem, Massachusetts with lectures, tours, research opportunities, and an exhibitor fair.
The Salem community is coming together to connect visitors and locals with genealogy research and wonderful family stories during the first Salem Ancestry Days in May. Events, which will be held at locations around Salem, will include lectures, tours, research sessions, open houses, and an "Ancestry Fair," which will be held at the Salem Waterfront Hotel & Suites. 
Salem Ancestry Days was created in response to the scores of visitors who come to Salem to trace their family history.
"We hear from visitors on nearly a daily basis that they are coming to Salem because their ancestors lived here, were involved in the Salem Witch Trials or were connected to Nathaniel Hawthorne," says Kate Fox, executive director of Destination Salem, "We decided to create space in the annual calendar dedicated to descendants and genealogy enthusiasts who want to learn more about the families who have called Salem home."
The weekend will feature a Land Blessing by the Massachusett Tribe, lectures on Afro-American, Jewish, Polish, and French-Canadian ancestry, and a Preservation Road Show. Experts from American Ancestors and other genealogical organizations will offer free family history consultations at the First Church, and tours of the parish, which dates back to 1629, will be available. The Registry of Deeds will hold an open house and assist people who want to research land deeds, and The House of the Seven Gables is holding a Family Reunion for anyone who has a family connection to the Turner-Ingersoll Mansion. There are also several walking tours to explore neighborhoods with ethnic stories including a tour focusing on Italian Americans in the Gedney Street neighborhood that will be hosted by Historic New England.
Salem Ancestry Days will share a wide array of stories and family histories that are rooted in Salem. The National Park Service will host a lecture on Polish Family Histories at St. Joseph's Hall and Essex National Heritage Commission plans to hold a lecture by author William Fowler. The Witch House will be collecting and sharing the stories of Salem's Indigenous community, and Harmony Grove Cemetery is hosting a walking tour entitled, Monuments & Movements: Abolitionists, Suffragettes, and other Social Reformers of the Day. The Peabody Essex Museum is hosting a talk by Associate Curator George Schwartz, whose new book, "Collecting the Globe: The Salem East India Marine Society Museum," offers in-depth exploration of the PEM's founding institution. 
What are your connections to Salem? Join us in May when we share and learn about all of Salem's family histories.
The calendar of events planned for Salem Ancestry Days, May 1-4, is growing!