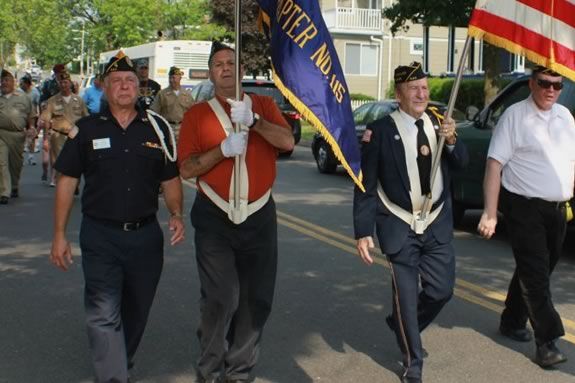 The Saugus Veterans Council Memorial Day Parade will start on Jackson Street at 9:00 am to Cliftondale Square along Lincoln Avenue to Central Street then onto Winter Street to the Veterans' lot at Riverside Cemetery for graveside services including an invocation and a '21 Gun Salute'. The parade will re-form and march to Saugus Town Hall for the memorial ceremony with Grand Marshall WWII Veteran Louis DeSouza, Sr.
"We do not know one promise these men made, one pledge they gave, one word they spoke; but we do know they summed up and perfected, by one supreme act, the highest virtues of men and citizens. For love of country they accepted death, and thus resolved all doubts, and made immortal their patriotism and their virtue"
All veterans are welcome to participate and join in the parade.
Saugus Residents are urged to cheer the marchers along the parade route.
The services will include the singing of the national anthem, Keynote speaker  and the flagging of the graves.
Following the services, those who marched in the parade will proceed to the Marine Cpl. Scott J. Procopio American Legion Post 210 on 44 Taylor Street, Saugus, for a collation.
In addition to the parade there are other events scheduled throughout the day including:
Reenactors of WWII, Vietnam and Korea
Field equipment displays
A 5k/10k/15k Gold Star Run for Honor: Gold Star Run for Honor
When:
Saturday, May 25, 2019 9AM