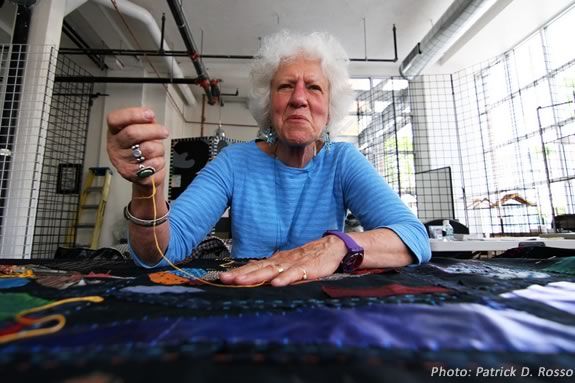 Get a jump start on your weekend with the Second Friday Program at the MIT Museum! Second Friday Programs are oriented for open exploration with opportunities to attend performances, demonstrations, and lectures through out the museum galleries. September's 2013's Second Friday will focus on the "Mending Boston" memorial collage quilt - a collaborative project that is intended to encourage communication about the Boston Marathon Bombings and to open channels of healing.
At the opening display of this piece at the MIT Museum, meet Clara Wainwright, the Cambridge artist behind the project. Then, take part in a community art project and lend your hand to a collaborative effort by the MIT community at large! Join your family, research lab, living group, company, or other community group and create a square together which will go up on the wall that night with many others, connected with red ribbons of words to create a rich visual picture of Cambridge. We will provide fabric, connective thread, markers, and more. Leave your finished piece with us and return in April to see how the final project represents our collaborative community.
Free with Museum admission.
An Interview with Artist Clara Wainwright
When:
Friday, September 13, 2013 5:30-7:30pm
Prices:
Included in Museum Admission