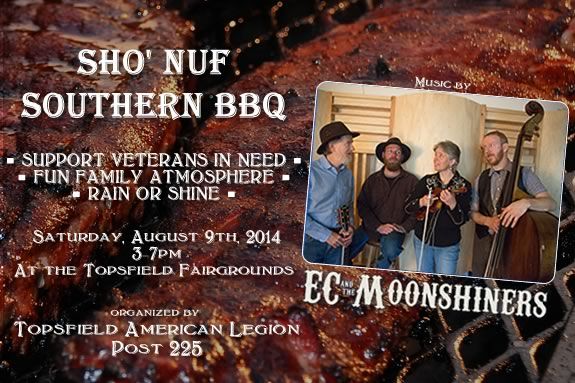 Come support our veterans in need and see bluegrass band E.C. and the Moonshiners, led by renowned fiddler Ellen Carlson, perform at a Southern style barbeque! This family fun afternoon offers ribs or chicken plus all the Southern barbecue fixings for adults and hot dogs for children. 
All Proceeds go to veterans in need.
This event will happen rain or shine!
Event organized by Topsfield American Legion Post 225
Proceeds will go to Honor Flight, which allows World War II veterans to visit the Washington, D.C. Memorial, and to the Horses for Heroes program at Windrush Farm in Boxford.
For advance tickets or for questions, please contact Dave Comeau.
When:
Saturday, August 9, 2014 3-7pm
Prices:
Before Aug. 1: Adults: $13; Kids under 10: $5
After Aug. 1: Adults: $15; Kids under 10: $6