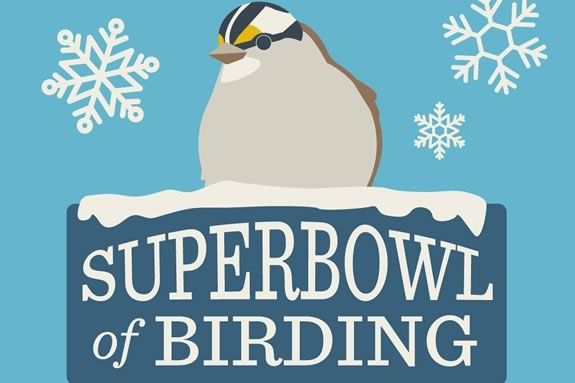 The Superbowl of Birding 2023 is a unique competition conducted in Rockingham County, NH, and Essex County, MA. During a 12-hour period, teams of birders of all ages and abilities seek out the greatest number of avian species and amass the most points based on the rarity of the birds recorded. Teams compete this year for prizes in 11 categories. Enjoy spectacular winter birding and find out just how good you and your team really are!
All Massachusetts, New Hampshire, and Mass Audubon safety precautions in effect at the start of the contest must be followed. Winners of this year's competition will be announced at a virtual awards ceremony for all participants on the evening following the contest. Winners will also be announced on Massbird, NHBird, and the Mass Audubon Superbowl website.
For rules and a checklist, go to www.massaudubon.org/superbowl. The registration fee is $20 for adults and children ages 13 and up; $10 for children ages 6 to 12.
The event consists of activities targeted for all levels of birders. Among ten categories of prizes:
Joppa Cup: Greatest number of points
Dave Larson Award: Greatest number of species
Essex County Award: Most points in Essex County
Rockingham County Award: Most points in Rockingham County
Seekers Award: Award for the first team to complete the special Seekers checklist
Fledgling Award: Award for the first team to complete the special Fledgling checklist
Parker River NWR Award: Most points on the refuge
Townie Award: Greatest number of species tallied from a single municipality
Newbies Award: Award for the greatest number of points tallied by any team with 2 or more members 16 years of age or younger
Sitting Duck Award: Most points compiled by a team birding within a 25-ft diameter circle
Lifer Award: Participant who sees the most new life birds during the competition
The registration fee includes the post-competition pizza party and prizes. For registration materials, rules, and information, please go to The Mass Audubon Superbowl Page or call 978-462-9998.
Registration is required.
A parent or guardian must accompany children.
Suitable for Children 6-12.
Minimum age: 6 years.
Please dress appropriately for the weather.
When:
Saturday, January 28, 2023 5am-5pm
Prices:
Adults: $20
Children (12 and under): $10