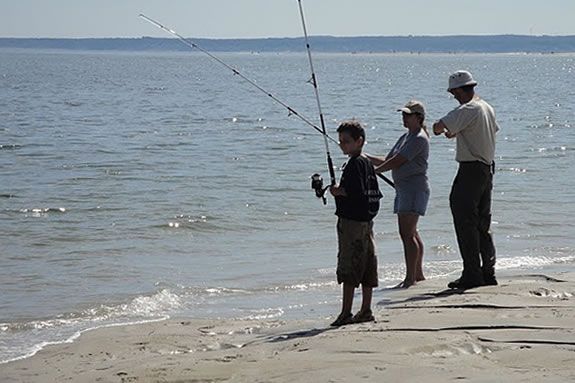 Ever wanted to try your hand at surfcasting from the Plum Island beach? Come join two local experts as they discuss the basics you'll need to get started (or improve!). Topics will include what gear you will need, what to use for bait and lures, how to find a spot that may hold fish, and the best tides and times to go.
Clayton Patles is from Plaistow, NH and has fished Plum Island since he was a kid, fishing for all types of fish from fresh water to salt water. He has been a member of the Plum Island Surfcasters for over 10 years and have been running their Juniors Program for over 5 years. Last year, Clayton won the Plum Island year-long tournament for the club, with a 38-pound striped bass.
James Jewkes is from Woburn, MA and has been fishing from age 10. He has been a Plum Island Surfcasters club member for over 5 years and spends 80% of his salt water fishing time on Plum Island. In 2016, he took top honors in the club's surf-caught tournament, and last season won the surf division in the Why Knot Fishing fall classic tournament.
Spaces in the refuge's 85-seat auditorium will be filled on a first come, first served basis. This free program is co-sponsored by the Friends of Parker River NWR and the Parker River NWR. NO preregistration for this program.
When:
Wednesday, September 18, 2019 7-8:30pm