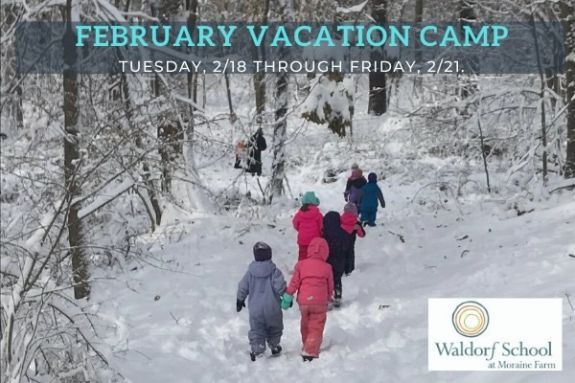 Waldorf School at Moraine Farm in Beverly is offering a February Vacation Camp experience. This camp is designed for children ages 4 through 7. Camp will be offered Tuesday, 2/18 through Friday, 2/21, 8:30 am through 3pm, with the option to pick up at 1 pm. Sign up for one day or all four.
Children will spend most of their day outside (weather permitting) exploring the outdoors, cooking warm snacks around the campfire, playing games in the snow-covered woods. Inside they will listen to magical winter-themed stories and craft in our cozy classroom.
Healthy snacks will be provided and children will bring lunch from home.
Learn more and register here: https://waldorfmoraine.org/summer-camp/
Cost: $75 for the first day & $70 for additional days
Email Camp Director Coleen Ryan for more information and to register.
Designed to resonate with a child's social, emotional, physical and intellectual development, Waldorf Education is truly unique. We combine structured activities with imaginative play and lots of outdoor exploration. Learn more about why this time-tested education movement is growing so rapidly across the country and around the world.
When:
Tuesday, February 18, 2020 from 8:30am to 3pm
Wednesday, February 19, 2020 from 8:30am to 3pm
Thursday, February 20, 2020 from 8:30am to 3pm
Friday, February 21, 2020 from 8:30am to 3pm