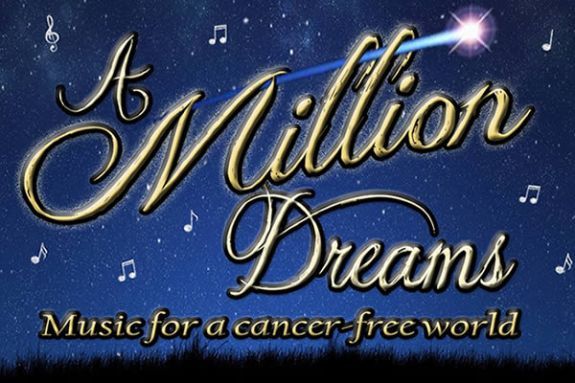 Voices of Hope presents: A MILLION DREAMS. Creating hope for a cancer-free world.
Inspired by The Greatest Showman's title song, Voices of Hope's Fall Gala, A Million Dreamswill draw on the stories of dreamers!
This October, we invite you to share a musical celebration of our journey. It began ten years ago when Voices of Hope was founded by a dreamer… a man who envisioned a world without cancer. Now, just a decade later, more than 150 performers have come together to dedicate their time and talents to that same vison. 
A Million Dreams will blend inspirational songs and stories of dreams come true; including a mix of personal and historical examples of the kinds of success and accomplishment that can become reality through passion, drive, and perseverance. You'll be inspired, motivated, and encouraged to see how one man's dream—fueled by contagious optimism and a clear vision—has sent ripples of hope throughout the cancer community.
Voices of Hope represents ordinary people on an extraordinary mission who have shown how together, we can make cancer history and turn A Million Dreams into a reality.
Ordinary People on an Extraordinary Mission
Voices of Hope (VOH) is a registered, not-for-profit, 501(c)(3) organization with over 200 members who each share a passion for the performing arts and a desire to join the fight against cancer. With music as our voice, we raise awareness and funds to support those who conduct the research and create the hope of finding a cure for generations to come. Through song we celebrate those we love, remember those we have lost, honor those who fight, and rejoice for those who survive.
Since 2009, VOH has donated nearly $700,000 to cancer research and specifically over a half a million dollars to the Termeer Center for Targeted Therapies at the MGH Cancer Center.
As long as there is research to be done, our VOICES of HOPE will continue to sing out for a cure!
When:
Saturday, October 12, 2019 - 7PM = Auction at 8PM = Show
Prices:
$75 VIP TICKET (ROWS A-C – includes post show party)
$50 ROWS D – J
$40 ROWS K-P