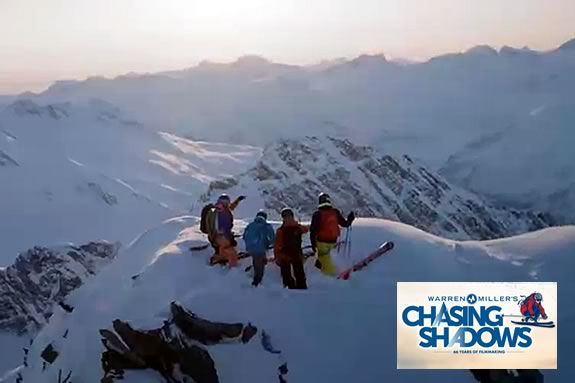 Warren Miller Entertainment introduces its 66th snowsports film, Chasing Shadows. Watch JT Holmes, Seth Wescott, Caroline Gleich, Steven Nyman and more as they pursue turns on the mountains of our dreams: Chamonix, Alaska's Chugach, Utah's Wasatch and the mightiest range of them all: the Himalaya. Everyone attendign this screening will recieve FREE Lift Tickets to Wachusett Mountain and Sugarbush Resort.
These athletes are masters in their element, and with every cliff drop, perfect line and knee-deep powder turn, they motivate us. Warren Miller once said, "A pair of skis are the ultimate transportation to freedom," and this year, we're chasing storms, snow, lines and the freedom they grant us.
Take a glimpse into the world of the U.S. freestyle team and the dynamics of snowsports that live on the fringe, like monoskiing, powsurfing and speed riding. Explore what it means to be inspired, and what it is about exotic locations and snow-covered summits that keep us searching for more.
As skiers and snowboarders we chase a feeling, a memory, a storm, a turn — we've been chasing it our whole lives and we'll keep chasing it a lifetime more. Winter starts with Warren Miller. Find tickets, showtimes, go behind-the-scenes and more at warrenmiller.com.
'Chasing Shadows' Trailer
FREE Lift Tickets!
Everyone attending Chasing Shadows will receive a voucher to Wachusett Mountain good for One (1) FREE lift ticket, valid either: a) from Opening Day 2015 through 12/23/15; OR b) 3/05/16 to Closing Day 2016. No refunds. No cash value. Non-transferable.
Everyone attending this screening of Chasing Shadows will receive a voucher good for One (1) FREE lift ticket to Sugarbush Resort, valid Monday through Friday during the 2015–16 winter season, EXCEPT FOR the following blackout dates: 12/25/15 through 1/03/16, 1/16/16 through 1/18/16 AND 2/13/16 through 2/21/16. Not valid with any other offers. No refunds. Non-transferable.
This is a great way to get pumped for that next excursion into the world of Winter sport.
Two Shows! 3pm and 7pm.
When:
Saturday, January 2, 2016 3 & 7pm
Prices:
Adults: $13
Students, Members & Seniors: $10