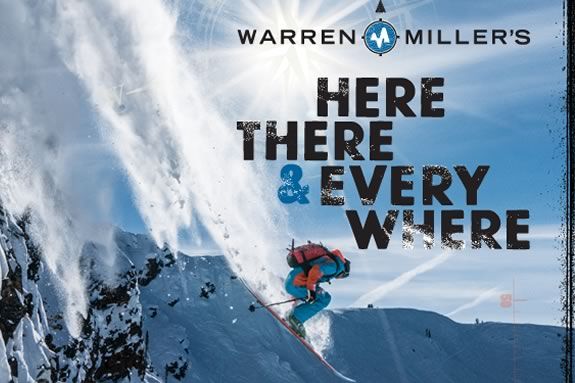 It's been 67 years since ski-film pioneer Warren Miller first picked up a camera to capture the wonder, adventure, humor, and beauty that is skiing. Since that time, Warren Miller film crews have traveled the globe—from storied slopes to hidden, snow-covered corners—to celebrate all things snowsports.
Their quest has taken powder-hungry filmgoers, Here, There & Everywhere—and this year continues that legacy. This fall, witness a freeform, freeski adventure in Warren Miller Entertainment's 67th snowsports film, Here, There & Everywhere.
See JT Holmes, Jeremy Jones, Grete Eliassen, Collin Collins, Ingrid Backstrom, Tyler Ceccanti, Wendy Fisher and more as they sweep across the expanses of Alaska, Montana's Glacier Country, Deer Valley, Greenland, Switzerland and more in the pursuit of the perfect turns.
This year, don't miss Warren Miller himself spin tales of the past as only Warren can do, reminding us that through the years, these films have truly taken audiences Here, There & Everywhere.
'Here, There & Everywhere' Trailer
FREE Lift Tickets to Sugarbush!
FREE LIFT TICKET TO SUGARBUSH Everyone attending this screening of Here, There & Everywhere will receive a voucher good for One (1) FREE lift ticket to Sugarbush, valid Monday through Friday non-holiday during the 2016–17 winter season. OFFER NOT VALID 12.24.16 through 1.01.17, 1.14.17 through 1.16.17, AND 2.18.17 through 2.26.17. Not valid with any other offers. No refunds. Non-transferable.
Two Shows! 3pm and 7pm.
When:
Saturday, January 7, 2017 3 & 7pm
Prices:
Adults: $13
Students, Members & Seniors: $10