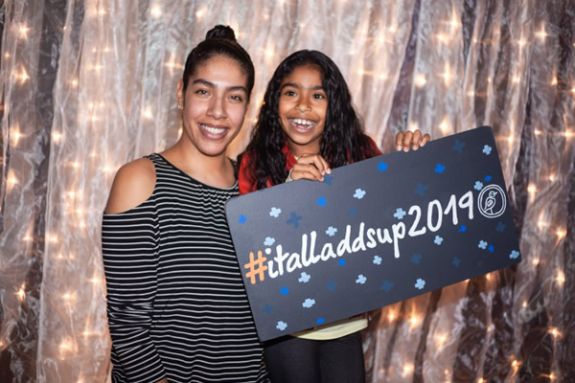 Change is Simple holds most successful fundraiser to date; Raises over $124,000 for Environmental Sustainability Youth Education Programming at Fall Event 2019 increases last year's proceeds by over 50%
On Thursday, October 17th, Change is Simple, Inc. held it's 7th annual Fall Fundraiser to benefit environmental sustainability education. The organization had it's most successful event to date raising over $124K to h elp fund the hands-on, integrated programming it activates at North Shore and Greater Boston elementary schools throughout the year. Chairs of this year's event were Alex and Natasha Lamb of Manchester-by-the-Sea. Natasha is Managing Partner at Arjuna Capital, Alex Lamb is Managing Director at New Summit Investments, and a member of the Board of Directors of Change is Simple.
Set for the first time at the stunning event space OLIO in Peabody - a former theater - the fundraiser provides vital funds that allow Change is Simple to operate. Change is Simple set out in 2011 to change the conversation about Environmentalism, through a unique education program that unites three critical groups in the race to combat climate change; field experts, college students, and youth. They shift the paradigm of environmental education from a nature driven perspective, to one centering on our complex, 21st century daily lives. Kids engage in a multi-year series of hands-on learning that links their everyday choices to their health, community and planet. They learn why their actions matter, and are empowered to be part of the solution and get others involved. Students participate in hands-on programming using innovative new technology and learn to take actions to lower their carbon footprint daily, infuse their new habits into their homes and become powerful advocates in their communities.
The theme of this year's fundraiser, "It All Adds Up" had the aim to support 100 classrooms. Change is Simple Board Chair Richard Grandoni opened the event to the dinner crowd, and announced the opportunity we have in training our youth to make a difference in the world. Chairs Alex and Natasha Lamb spoke about their passion for the mission of the organization, the impact we can all have in supporting work to train the next generation in living more sustainably, and the critical role they play as the next generation of leaders. Local students Third Grader Hailey Duran, Ninth Grader Ryan McFadden, Eleventh Grader Brynn Cafferty, and former Northeastern College Student Intern Shubhi Tandon were brought up on stage and asked about their experiences with Change is Simple, what they learned, and for those alumni of the program, what has impacted them beyond those years. The students talked about their excitement for the lessons, the impact the program had on their day to day lives, and Brynn talked about wanting to pursue a career in environmental science because of her experiences with Change is Simple: " Even though it's been so long, the memories and lessons I've learned from Change is Simple are still so fresh in my mind, they've actually led me into exploring a career in environmental studies or environmental sustainability " . Former college intern, Shubhi Tandon, also talked about the ways in which the organization has affected her longer term and the positive impacts she saw on the children.
The evening celebrated the collective education of over 26,000 students since 2011 with plans to expand current programming from 35 to 50 schools in diverse communities over the next three years. A chalkboard marking the 100 classroom goal was filled up as the night went on. Post-event totals were tallied, and brought the organization over its goal of $100,000 in net revenue, enough to fully support 102 classrooms. This number represents ⅓ of the classrooms that Change is Simple is bringing programming to this school year.
Dinner guests enjoyed live music from Jesse Ciarmataro, a delectable fall-inspired menu from Chive , dessert by Mayflour and Prosecco from 90+ Cellars . Party guests enjoyed passed hors d'oeuvres by Chive, wine from 90+ Cellars , beer from Old Planters Brewing and music by Jay Foss Music . Auctioneer John Terrio of Auction Knights kept the crowd entertained during two lively auctions. Sponsors for the event were: New England Biolabs, Beverly Bank, Steel Root, Arjuna Capital, Breckinridge Capital Advisors, Institution for Savings, Jay Foss Music, Endicott College, Justin Repp Realty, Leslie Ray Insurance, Salem Five, Wholefoods, Chive Events, Mayflour Confections, Old Planters Brewing, and 90+ Wines.