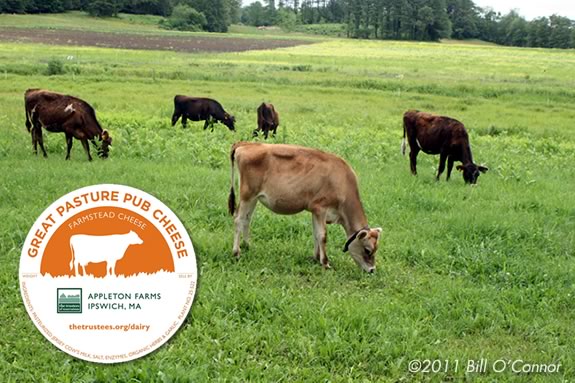 Appleton Farms in Ipswich has added cheese to the list of dairy products made fresh on-site. A spreadable 'pub' cheese, a creamy ricotta style cheese and barrel churned hand packed butter are all now available at the dairy store in addition to their milk products that are exponentially superior to store bought milk.
Appleton Farms has done a wonderful job bringing their vision of a truly local dairy operation to fruition.  The milk is produced on site by a grass fed herd that is raised on the farm. Milk is processed then  sold at the farm, and is also used to create the cheeses and butter. How much fresher can you get? 
More products are in the pipeline including yogurt, an aged cheddar cheese and a triple-cream St. Andre-style cheese that promise to be worth the wait!
Appleton Farm Fall Dairy Store Hours:
Monday, Wednesday & Thursday: 2pm – 7pm
Tuesday & Friday: 11am – 6pm
Saturday: 11am – 3pm