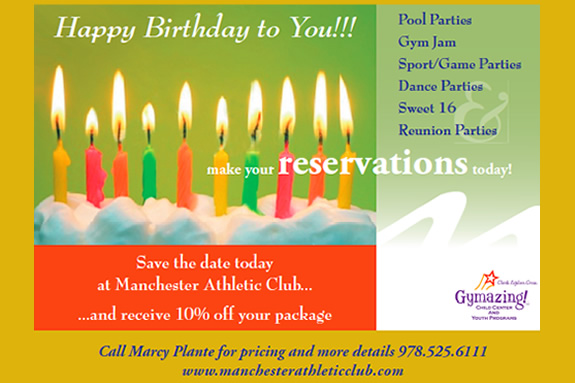 What better place than Manchester Athletic Club for your next Birthday Party! Manchester Athletic Club will do all the work for you!  MAC staff will work with you to make sure that your party runs as smoothly as possible and are more than willing to help with any special requests.
Choose from fun MAC themed parties such as:
Boogie Down Dance Parties
Splish Splash Pool Parties,
Gym Jam Parties
Sports & Game Parties
Sweet 16
Reunion Parties
Themed Birthday Parties includes a dedicated party coordinator, plates, cups, napkins, candles, cutlery, invitations, table cover, decorations, 1 ice cream cup and drink per child, etc. MAC makes it so easy they can even provide pizza, balloons, and party favors for you! They can event assist with the cake!
Let the Manchester Athletic Club take care of everything! 


Children's birthday parties at MAC are designed to give your child a memorable birthday and parents a hassle-free party!
For more information or to book your party, please contact Marcy Plante at at 978-525-6111 or mplante@manchesterathleticclub.com