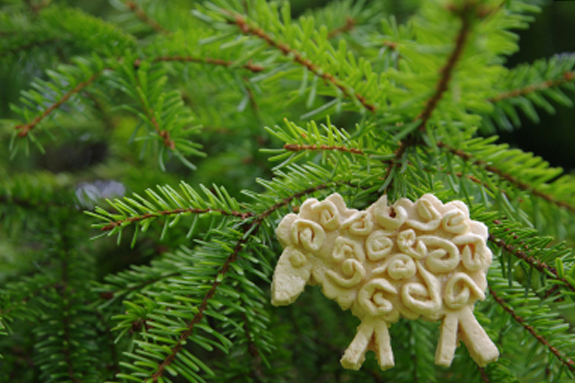 We all have favorite ornaments on the tree that are handmade by family and friends. Every year when we break out the box of ornaments, we have great fun sharing stories about the good times we remember and it brings back very fond memories of crafting with family. It's been great fun to make ornaments for the tree with B and our current favorite is salt dough clay ornaments. It's easy to make the salt dough clay recipe and gathered up paint, glitter and spray varnish and make a morning of it.
Salt Clay Recipe:
The recipe is simple, just a cup of flour, a cup of salt, 1/2 cup of hot water, and a tablespoon of oil. You could add food coloring or one tablespoon of tempura paint (if you want a color to your ornament) or 1/4 cup cinnamon (if you want the natural look with a pleasing scent).
To make, just dissolve the salt in the hot water, then mix into the flour with the oil. Shape it into whatever designs you and the kids like, making sure to poke a hole at the top for hanging if you're making ornaments. Then bake at 200 degrees for an hour. Paint them, use glue glitter, or gemstones and be sure to use a couple of coats of spray varnish when complete for longer lasting ornaments.
These are not edible.