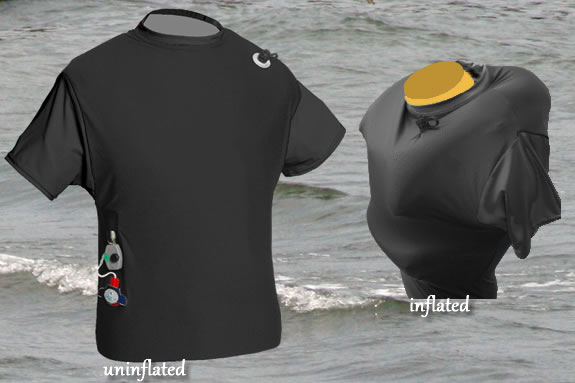 Active kids don't like to have their movement constricted while playing in the water by bulky personal flotation devices, whether they are just splashing around, surfing, sailing, tubing or water skiing.  Well, the folks over at Float Tech have created a great middle-ground solution for the worrying parent and their "indestructible" children. 
The  Sea Tee is an inflatable rash guard that can be manually inflated in case of an emergency using a small CO2 container or by mouth, while still providing the sun and skin protection that you would expect from any Rash guard.
This product is a great idea and a wonderful safety tool for kids and adults alike, but it is not a replacement for strong swimming skills and awareness of environmental safety.  Make sure your kids understand the dangers of swimming, currents and exhaustion before entering the water. Never leave a small child unattended in the water.  Sea Tees do not automatically inflate, and you must be conscious to inflate it.
Sea Tees are meant for ages 10 and up and are available in sizes S-3XL.
Help protect your child from cramps, exhaustion, rip currents, and other water related emergencies by ordering your Sea Tee at Amazon () or through Jamestown Distributors in Jamestown Rhode Island.
Sea Tee Inflatable Rashies in Action!
The Sea Tee was named the Winner of the 2011Life Jacket Design Contest.