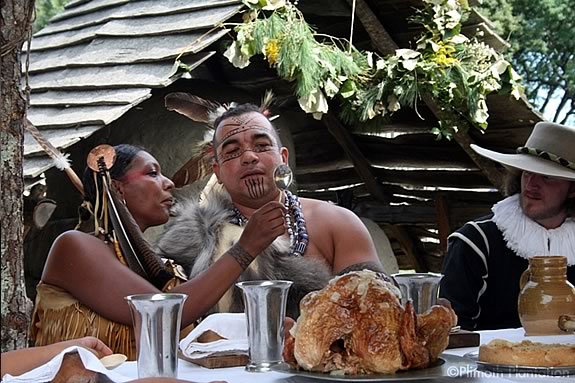 We are so close to Plymouth that it's worth a visit over the next few weeks so the kids can see and experience the history that they learn in school.  Check out Pilgrim Memorial State Park , home to the Mayflower II and the Plymouth Rock, then head down the road to Plimoth Plantation to experience pilgrim life as it was back in the 17th century. Plymouth is easy to get to from the North Shore, take 93 South to Route 3 South, you can't miss it!
At Plimoth Plantation, all staff are characters in historic dress showing what life was like living in Plymouth in 1627. There is a 1627 English Village, a Craft Center, a Wampanoag Tribe homesite, and the Nye Barn. Visit the welcome center on arrival where a short movie will and offer a brief history of the plantation and the origins of the first Thanksgiving.
There are a few good lunch and dinner spots nearby like Wood's Seafood and Blue Blinds Bakery that make for a nice ending to a fun day.
Thanksgiving is just around the corner, a day trip like this over the weekend is a great opportunity to see Thanksgiving in another light by walking through the history of the holiday.