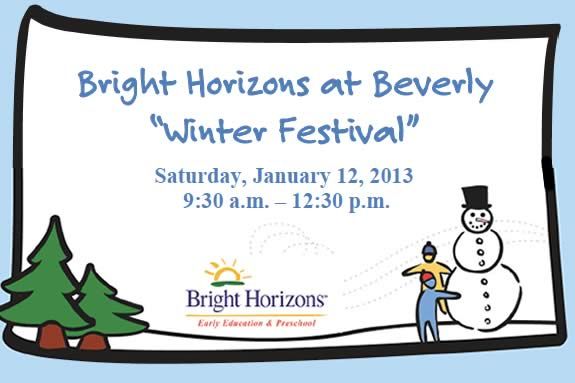 Join Bright Horizons at Beverly Cummings Center for winter fun on the NEW playground. Frosty will join the kids in Art Studio for art projects and Movement Matters Zone and will join the children for breakfast and photos.
Activities for the children include:
Breakfast and photos with Frosty
Winter art projects in the new Art Studio
Outdoor scavenger hunt and tree decorating on the new playground
Warm up in the Movement Matters Zone with music and entertainment by local artists "Vic and Sticks" at 11:30 a.m.
RSVP to 978-922-4252
The newly renovated Early Education and Preschool Center at Bright Horizons at Beverly Cummings Center has new program spaces, curriculum and enrichment programs!
• Check out the new Movement Matters Zone with climbing wall
• Get creative in the new Art Studio
• Interact with the latest in early education technology, including the new SmartBoard
• Comprehensive curriculum, The World at Their Fingertips, enhanced with these features: Handwriting Without Tears, Everyday Math, and Weekly Reader
• Experienced and caring teachers and administrative staff
Location:
Bright Horizons Early Education and Preschool
Cummings Center, Beverly Ma
When:
Saturday, January 12, 2013 - 9:30 a.m. - 12:30 p.m.