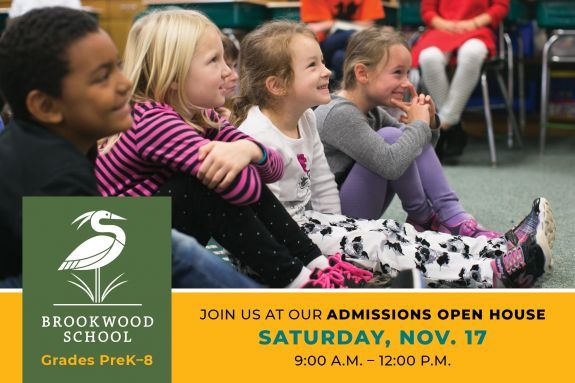 Brookwood School invites you to attend its upcoming admissions open house during which families can tour the school, meet faculty, attend an information program with Head of School Laura Caron and hear from Grade 8 students.
Stay tuned for registration information and program!
Saturday, November 17, 2018 from 9:00 a.m. - 12:00 p.m.
At Brookwood, kids come first—not the test, not trophies, not to-do lists. We know how kids learn best. Every day, we use our expertise to challenge kids intellectually and ensure they feel valued so that they can grow into their best selves. Because when kids skip down hallways, learn with curiosity, think deeply, and take risks, they confidently walk into whatever's next.
Located on the Beverly/Manchester line just minutes from Exit 17 off Route 128, Brookwood is a coeducational independent day school for Grades Pre-Kindergarten through Eight. Applications are now being accepted for the 2019-2020 school year.
Helpful Links:
Driving Directions
Outdoor Learning
Innovation
When:
Saturday, November 17, 2018 from 9:00 a.m. - 12:00 p.m.
.