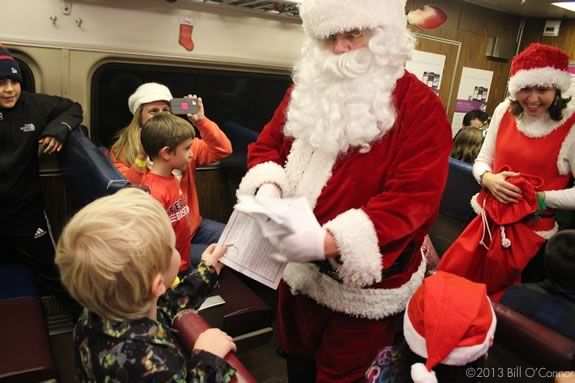 Immaculate Conception School has adopted the Polar Express 30th anniversary edition storyline and brought it Newburyport! Join Santa and a cast of characters on a holiday train ride that your kids will love! Now in its 13th year, this annual journey into the magical world of the holidays creates family memories that will be remembered for a lifetime!
Each 70 minute round trip adventure includes cocoa and treats, a visit from Mr. C and his elves, carol singing, making a list for Santa, a silver bell presented to each child during a reading of "Night Before Christmas" by local storytellers. Kids will also be visited Frosty, Rudolph, the Christmas Mouse and many of Santa's elves!
Come in your pajamas or as you are. It is truly a magical experience for children and parents alike.  Remember to bring your camera!
This year marks the 13th time that ICS has recreated this story right in Newburyport! The event has become more popular with every passing year. In total, over 45,000 people have ridden the trains over the past several years in what has become the premier Christmastime event on the North Shore. This year, over 4,000 people will ride the rails on our magical journey to the North Pole.
One hundred percent of the net proceeds go directly towards funding the operating expenses of the Masters School.
There are a number of trains to choose from 11:35am, 1:15pm, 3:15pm, 5:30pm and 7:30pm.
When:
Saturday, December 5, 2015 11:35am-7:30pm