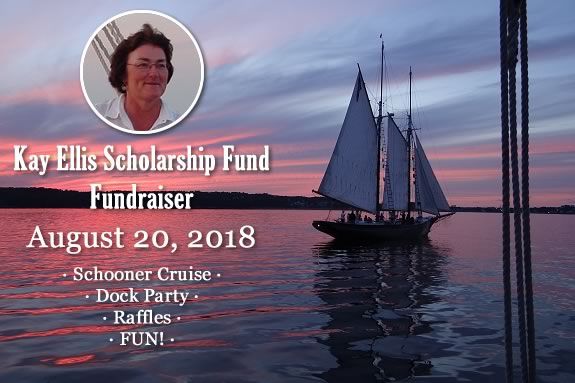 Come to the Kay Ellis Memorial Fundraiser for a night of fun in Gloucester! Enjoy a sunset schooner cruise aboard the Lannon or Ardelle, followed by dinner, dessert, local music, and a pirate raffle. In 2017, $9,000 was awarded to students studying Hospitality and Tourism.
Join us to help support the future youth of our Cape Ann industry.
The scholarship fund benefits local students of the tourism and hospitality industry has been set up in memory of Kay Ellis, who worked diligently for many years on many tourism ideas and issues and helped elevate Gloucester as a tourism destination. She loved the maritime and hospitality business and she put her heart and soul into it, working with the Chamber of Commerce and Discover Gloucester, all the while promoting Schooner Lannon. We hope to share her vision through the scholarships.
When:
Monday, August 20, 2018 6-10pm
Prices:
Cruise and Dock Party: $60
Dock Party: $40