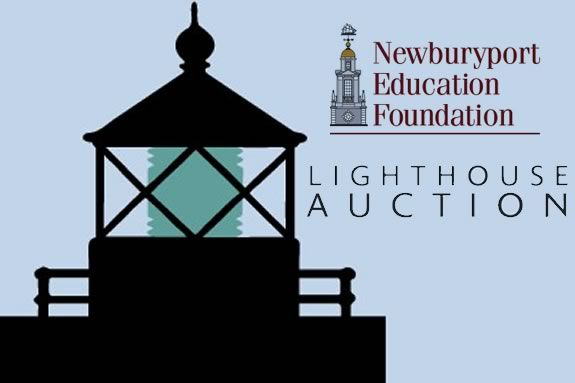 Join the Newburyport Education Foundation for their Lighthouse Auction to raise funds that will go to enhance the quality of public education in the Newburyport School District. TFor the first time ever, online bidding will continue until the end of the silent auction on Saturday, November 12th at 8:00pm.  Auction night kicks off this year at 5:00p with Happy Hour, followed by a fantastic buffet from some of the BEST restaurants in town. Come hungry!
Some of the things you will find:
3 Night Getaway at Jay Peak

Week in Lake Tahoe

Party at the Phoenix Room

Lexie Burger Bus Party for 25

David Ortiz Autographed Baseball

and much MORE! 
"We hope our supporters will share this online bidding opportunity with friends and family near and far because it's a convenient way to buy gifts and support the Newburyport Public Schools at the same time," said Michael Brunnick, event chairman. "Mobile bidding gives grandparents, aunts, uncles, family and friends the opportunity to do holiday shopping for an incredible experience, dream vacation, and one-of-a-kind gift while directly benefitting students here in Newburyport."
In addition to items like those mentioned above, families, teachers, and students create classroom and teacher donations that are often the most popular items.  In the past, experiences have included: getting ice cream with kindergarten teachers, surfing lessons with Mr. Reynolds (7th grade science teacher), golfing with Ms. Whitney (3rd grade teacher) and much more.  "The NEF strives to keep the Lighthouse Auction fresh for bidders with an exciting array of worthwhile items and experiences.  Participants can expect many unique donations to pique their interest while having a lot of fun for a great cause," said Jane Dutcher, head of the volunteer auction donations committee.
Also, the Diamond Raffle sponsored by MK Benatti Jewelers returns this year with three chances to win including: $3500 Gift Certificate, $1500 Gift Certificate, and $500 that can be used to purchase anything in the store.  Each ticket is $20 or three tickets for $50 (savings of $10). Tickets can be purchased at MK Benatti Jewelers, online at www.newburyportef.org, or the evening of the auction.
The live and silent auction will be held Saturday, November 12th, with doors opening at 6:00 p.m. at the Newburyport Senior/Community Center, 333 High Street, Newburyport.
Admission price includes a complimentary dinner buffet, hors d'oeuvres and a cash bar (with all profits benefiting the NEF). Tickets are $40 in advance (by midnight on Friday, November 11th) or $50 if purchased online day of or at the door, and can be purchased at www.newburyportef.org/auction.All the items are donated to the NEF and your donation to win the item directly benefits the Newburyport Public Schools. This is a perfect way to buy a gift for a family member, friend (or yourself!) while benefiting the Newbuyport Public Schools.
When:
Saturday, November 12, 2016 6pm
Prices:
$40 per Person Online; $50 at the Door