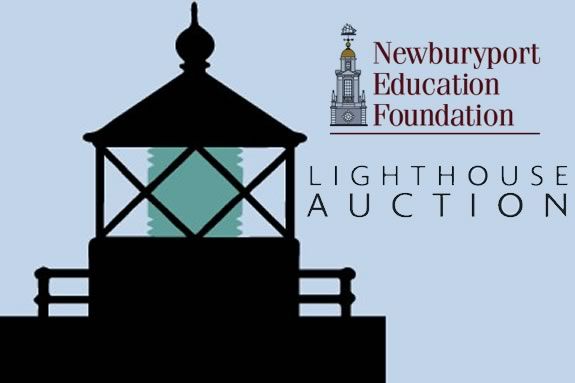 Join the Newburyport Education Foundation for their Lighthouse Auction to raise funds that will go to enhance the quality of public education in the Newburyport School District. This auction is the biggest fundraiser of the year for NEF, raising over $100,000! This years' auction proceeds witll go to the District-Wide STEM Initiative (Phase 1) and the Newburyport High School Auditorium (Phase 3).
Some of the things you will find [ BID ONLINE! ]:
Domino's Pizza Delivery by Joe Keery, star of Stranger Things!
A Week's Rental in Lake Tahoe
Ipswich Ale hosted Block Party
6 Tickets to Dead and Company
Overnight Stay at the Four Seasons
Two Weeks at Camp Cody in NH
and much MORE! 
In addition to items like those mentioned above, families, teachers, and students create classroom and teacher donations that are often the most popular items.  In the past, experiences have included: getting ice cream with kindergarten teachers, surfing lessons with Mr. Reynolds (7th grade science teacher), golfing with Ms. Whitney (3rd grade teacher) and much more.  "The NEF strives to keep the Lighthouse Auction fresh for bidders with an exciting array of worthwhile items and experiences.  Participants can expect many unique donations to pique their interest while having a lot of fun for a great cause," said Jane Dutcher, head of the volunteer auction donations committee.
Also, the Diamond Raffle sponsored by MK Benatti Jewelers returns this year with three chances to win including a $5000 Gift Certificate that can be used to purchase anything in the store.  Each ticket is $20 or three tickets for $50 (savings of $10). Tickets can be purchased at MK Benatti Jewelers, online or the evening of the auction.
When:
Saturday, November 10, 2018 6pm
Prices:
$40 per Person Online; $50 at the Door