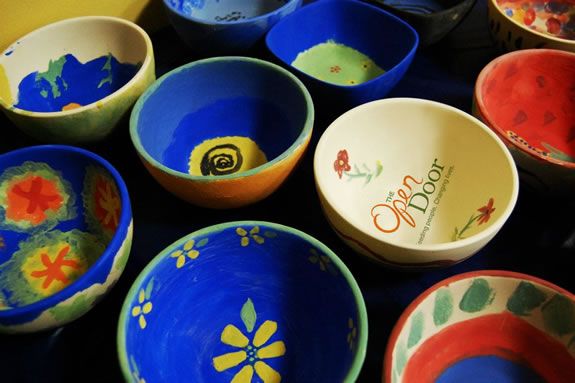 The Open Door will hold its annual Empty Bowl Dinner on Thursday, May 8, 2014 from 4-8 pm at Cruiseport Gloucester.  Share in a simple meal of soup, bread and a cookie and take the dinner bowl home as a reminder of someone in need of a meal. Empty Bowl events are held nationally to generate awareness concerning hunger and to raise money for local hunger-relief programs.
Bowls have been painted with care by members of the North Shore community over the last several months. A silent auction will be open from 4-8 p.m.
Tickets are are available at the door.  Proceeds from this year's event will benefit The Open Door Summer Lunch and The Open Door Mobile Market.
The Empty Bowl Dinner in 2013 was attended by more than 1,000 people. A lot of money was raised to help local families in need and it was a nice way to spend a Thursday night dinner with your community.
This year extra parking is available at Good Harbor Beach with complimentary trolley service from CATA to and from the Cruiseport Gloucester.
If you would like to make bowls for this event, please contact Marty Morgan.
When:
Thursday, May 8, 2014 4 - 8pm.
Prices:
$15 available at the door
$10 for kids 10 and under