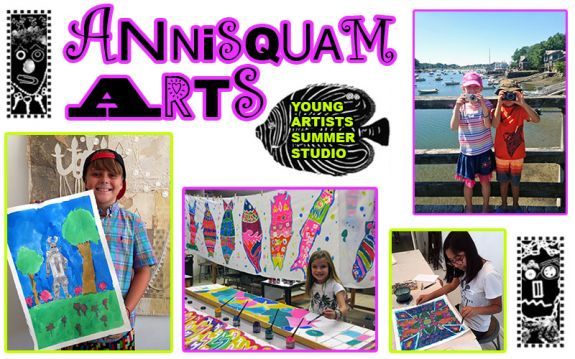 Ignite your imagination this summer at Annisquam Arts! 
Seven-week-long workshops reveal the diverse traditions of art around the world. This Cape Ann summer studio is the perfect setting for your child to express and explore their creativity.
Developed by artist and educator Dawn Southworth, Annisquam Arts tips off its 29th season by offering a variety of workshops for young artists. Conducted at Dawn's open and professional home studio on Goose Cove, we have easy access to Gloucester's cultural center and Cape Ann's most scenic spots. The entire program runs for seven weeks, June 19- August 3, 2023, with new courses each week.
Dawn Southworth is a well-known Boston artist recognized for her mixed media works and installations. Dawn teaches art at Glen Urquhart School, in Beverly, MA, and is a former visiting faculty member at the School of the Museum of Fine Arts, Boston, MA. Dawn previously owned Clark Gallery in Lincoln, MA. Her work is represented in many public and private collections, including the DeCordova Sculpture Park and Museum, the Addison Gallery of American Art, the US Embassy in Morocco, the Boston Public Library, and Fidelity Management and Research. More information about Dawn and her work can be found at www.dawnsouthworth.com.
Young Artists' Summer Studio Workshops run Monday through Thursday, 9:00 am – 1:00 pm for ages 6-14.
The kids have a blast engaging with a wide range of materials and artistic techniques in a multi-sensory studio environment. Small class sizes and individual instruction allow for all levels of ability to be nurtured. All classes are led by Dawn.
Young Artists Summer Studio Morning Workshops run Monday through Thursday, 9:00 am - 1:00 pm. We will have fun engaging with a wide range of artistic disciplines and materials in a multi-sensory studio environment. Limited class size and individual instruction nurture all levels of ability between the ages of 6 and 14.
Week 1: Ships and Shapes: Cape Ann's Treasures
Monday, June 19 to Thursday, June 22; 9 AM - 1 PM      
With sketchbooks in hand, we'll make daily excursions to some of the area's most iconic spots. Hop aboard a boat shuttle in Gloucester harbor; explore the galleries and studios of the Rocky Neck Art Colony; and follow the same scenic paths as legendary Cape Ann artists Winslow Homer, Nelle Blaine, Stuart Davis, Edward Hopper, and Marsden Hartley. Walking shoes, swimsuits, and a towel are encouraged this week––as well as an appetite for ice cream :)
Week 2: Bookmaking Bonanza
Monday, June 26 to Thursday June 29; 9 AM - 1 PM
*New book designs this year!
Do you keep a diary? Do you record your dreams? Do you write notes to your friends and family? Do you sketch and doodle or write stories? This week, students will construct their very own ornate books from cover to cover! Students will learn the art of traditional binding while experimenting to add their unique touches. We'll use our imaginations to incorporate painting, printing, drawing, and collage techniques to make our books really pop with personality!     
Week 2: Caribbean Cool
Monday, July 3 to Friday July 7; 9 AM - 1 PM
This week, we will conjure up the legends and folklore of Caribbean culture by exploring this rich artistic culture. The works of Carlos Estevez, Frida Kahlo, and Rufino Tamayo will spark our imaginations as we delve into the vivid color palette and exotic scenery of the Caribbean Sea. Artists in Cuba, Haiti, Jamaica, the Islands and Mexico use found objects, so we will follow in their footsteps, making art with sea glass, shells and driftwood! As we investigate traditional art materials, we will create still-life paintings on canvas and try our hand at mosaics. 
* Note: This week's classes take place on Mon, Wed, Thurs. and Fri. NO CLASS ON TUES, JULY 4TH
Week 4: Twisted Textiles
Monday, July 10 to Thursday, July 13; 9 AM - 1 PM      
This week, color and whimsy will turn the studio into a magical factory laboratory. We'll experiment with an array of textile-art techniques and be inspired by the local Folly Cove Designers, the quilters of Gee's Bend, and whimsical fabric paintings by Faith Ringgold. Paint your own dazzling ornate silk scarf, sew a cuddly stuffed animal, and embroider your own unique patterns with colorful yarn. Learn basic sewing and textile techniques, and have SEW much fun!
Week 5: Woodwork Wonders
Monday, July 17 to Thursday, July 20; 9 AM - 1 PM 
*New projects for returning students
Want to build a house? Only kidding. But how about making some other amazing things from wood? Do you want to know how to use a hammer, drill, saw, and all sorts of wood tools? This week we'll learn the basics of how things are made and construct our own objects that you can use in your home or give as a gift! You will leave the class with an appreciation of things made with wood and will have enough knowledge to create your own projects at home!
Week 6: Global Art Passport
Monday, July 24 to Thursday, July 27; 9 AM - 1 PM
Get your passport ready and hop on the global-art caravan express! The art we make this week will take us to distant corners of the globe. Bring dragons to life with the ancient tradition of Chinese calligraphy painting, paint Japanese koi fish, create Haitian tin art, and try your hand at ornate Indian design and Tibetan-inspired mandalas.
Week 7: Color Collision
Monday, July 31 to Thursday, August 3; 9 AM - 1 PM       
We will shake up the imagination this week! Following the beat of 1960's Pop Art masters Andy Warhol and his famous portrait series, Roy Lichtenstein's comic book style, and Keith Haring's joyful figures, we will jump into the imagery of popular culture. Students will assemble eye-popping optical illusions and create works with mixed media, paint, and collage. Pop art is a style of art based on simple, bold images of everyday items, such as soup cans, painted in bright colors. Pop artists created images of consumer product labels and packaging, photos of celebrities, comic strips, and animals.
Testimonial: My daughter Maggie (Age 8), had an amazing week at Annisquam Art Camp.  She completed numerous projects and brought them home with pride.  I really couldn't believe the quality and uniqueness of each project.  The theme of the week was sewing and some of the projects were a pillow, bag, and teddy bear.  The owner, Dawn, is so creative and good with the kids.  My daughter enjoyed everything from the art to the beach excursion to the dairy free ice cream. When I picked her up she would say, "You're here already!"  My daughter has done many art camps, ranging from small town art studios to big city art museums and this has been both of our favorites.