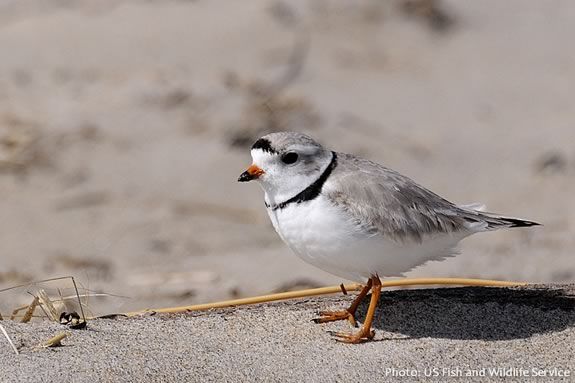 Parker River National Wildlife Refuge invites people of all ages to celebrate Endangered Species Day on Sunday May 19th from 12pm-3pm at the Refuge Visitor Center. Endangered Species Day was designated to educate the American public on the importance of protecting endangered species and highlight the everyday actions that individuals can take to help protect our nation's wildlife, fish, and plants.
During the Celebration, visitors can engage in different activities and crafts to learn about local endangered species, and species in decline. Several activities will take place outdoors - please, dress appropriately for the weather. The winners of the 2nd Annual Beach Sign Youth Art Contest will also be announced at 1pm! Please read below for a full list of Celebration activities:
Batty Bingo!
An all-time favorite game turned batty! Fill your Batty Bingo boards by following clues that will take you around the visitor center and teach you awesome facts about bats. All bingo winners will receive a sur-prize!
Beach Sand Discovery Kit
Dig around in our beach sand discovery kits to uncover what makes each beach unique. You will never look at sand the same way again!
Butterfly Bonanza
Visitors have the opportunity to play a role in butterfly migration via conservation and education. Seed bombs will be given out so visitors can launch the seeds of butterflies' favorite wildflowers in their gardens. They can also color their own Monarch or Karner Blue butterfly to be displayed in an educational exhibit at the refuge's visitor center!
Live Blanding's Turtles!
Students from River Valley Charter School will be bringing in live Blanding's Turtles, a species in decline that can be found in your own backyard! This class is part of the Blanding's Turtles head-start program in which they raise and monitor the turtles in their classroom. Students will teach visitors all about the turtle's biology, conservation, and how they take care of and study them in school!
Make Your Own Piping Plover
The appearance of piping plover chicks is commonly described as "cotton balls on toothpicks." With this craft, we are taking this analogy literally! Using cotton balls, tooth picks, and markers, create your very own piping plover to take home or add to our exhibit!
Piping Plover Nest Search
Ever wonder what it's like to be a plover biologist? In this activity, visitors will use binoculars and their smarts to find hidden piping plover nests! They may even come across signs of potential predators!
Saving the Saltmarsh Sparrow
The charismatic saltmarsh sparrow is adapted to surviving the constant flooding of their home, the saltmarsh, but face big challenges as a result of climate change. Come visit our new exhibit, featuring short videos of the saltmarsh sparrow's ecology. Visitors will also be able to make-and-place their own saltmarsh sparrow nest to see how it would survive among the elements!
Silk Painting Mosaic
Artist Susan Quateman will be guiding visitors as they create a silk painting mosaic of endangered species. Each participant will be able to paint a featured endangered species on their own silk square. The collaborative mosaic is to be displayed in the Refuge Visitor Center! This activity will only take place from 12pm-2pm.
Tigers, Elephants, Crocodiles, Oh My!
Did you know that US Fish and Wildlife Service protects tigers, elephants, and all wildlife living in other countries? Come look at some items confiscated by USFWS's Wildlife Inspectors and learn about the international laws protecting the world's most iconic wildlife.
For any questions please contact the refuge via phone: (978) 465-5753 or email: parkerriver@fws.gov
When:
Sunday, May 19, 2019 Noon – 3pm