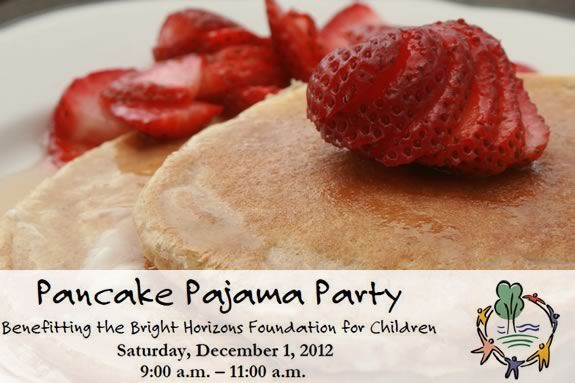 Bright Horizons' Early Education and Preschool is proud to host a Pancake Pajama Party to benefit the Bright horizons Foundation for Children on Saturday, December 1, 2012 from 9 to 11 a.m.
As part of the Toward a Better World curricula that nurtures and guides children's development of empathy, compassion and social awareness, attend this event for a fun morning to benefit the Bright Horizons Foundation for Children.
Pancake breakfast served from 9:00 a.m. – 9:45 a.m.
Special musical performance by Peter Sheridan at 9:45 a.m.
Interactive art activities
Please bring one pair of new pajamas for donation to the Bright Horizons Foundation for Children.
For more information, please visit www.brighthorizonsfoundation.org
Bright Horizons at Brickstone
400 Brickstone Square
Andover, MA 01810
978-475-7122
www.brighthorizons.com/brickstone
Bright Horizons® is the North Shore's leading provider of high-quality early education and preschool.  The programs empower children from infancy on to become confident, successful learners and secure, caring people. Bright Horizons strive to grow young readers, scientists, artists, and explorers who are engaged and curious. The programs invite children to approach school and academics with skills, confidence, and a drive for excellence. To learn more about Bright Horizons' full-time, part-time and back-up programs for infants, toddlers and preschoolers in the North Shore area, please visit http://www.brighthorizons.com/NorthShoreKid
Location:
Bright Horizons Early Education and Preschool
 
When:
Saturday, December 1, 2012 from 9 to 11 a.m.