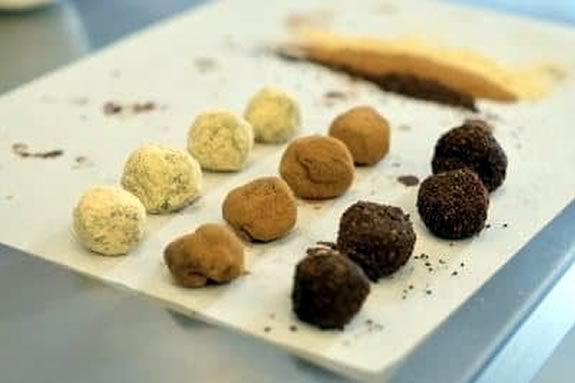 Cooking together and having fun in the kitchen makes our farm family happy and we want to share that enthusiasm for cooking with you. Celebrate your love of chocolate with the whole family! Satisfy all your wildest cravings and share a sweet moment with friends, family or a significant other making chocolate side-by-side.
First, our Ovedia Artisan Chocolate expert will present a short tutorial on where chocolate comes from including a real cocoa pod and cocoa beans, and the process a cocoa pod takes to get its final state.
Then, the chocolatier will teach the attendees how to make dark chocolate ganache. While the ganache is still warm, participants will be encouraged to think of the ganache as fondue, and will be invited to dip bread to taste this incredible treat.
Attendees will then be given instruction on the process of making (and eating, of course) a French Rolled dark chocolate truffle. Attendees will be given chilled dark chocolate ganache to participate in the technique and then presented with four to five different options to roll each of the 12 truffles. A box will be provided to take your confections home.
This class is designed for families with children age 5+. It is not a drop-off program; at least one adult is required to attend. No adults without children please; this is a family-focused program. There is an adults only truffles and wine class offered that same evening: http://www.thetrustees.org/things-to-do/northeast/event-50791.html
Decorations: We'll provide 4-5 decorations in which to roll your truffles. Toppings may include, but are not limited to: ground chocolate, candy sprinkles, non-pareils, graham crackers, confectioners' sugar and/or pretzels.
Tickets: Each ticket comes with a dozen truffles that attendees make themselves. Please plan to purchase one (1) ticket per child (each ticket is a truffle kit to make a dozen truffles), plus additional tickets for any adults in your party who want to make their own truffles. Only one adult allowed per child without purchasing extra ticket (i.e. two adults and one child cannot attend with only one ticket, at least two tickets must be purchased in this instance). Tickets cost $28 per Trustees member and $35 per non-member (general ticket).
This class contains dairy and nuts; unfortunately there is no vegan or nut-allergy safe option for this class. Please email appletonfarms@thetrustees.org if you have allergy questions.
About Ovedia Artisan Chocolates
Ovedia is a chocolaterie and espresso bar located in the heart of historic Amesbury. Established in 2004, by Barbra Vogel. Named after her grandmother whose kitchen was always filled with heavenly scents and tasty treats. Barbra set out to create a brand that is known for its unique flavor profiles, unmatched taste and true artistry.
In 2011, Antoinette Whitney joined Ovedia and Barbra began training Antoinette in the art of chocolate making known as chocolatiering. By the following year, Antoinette was not only a full-time chocolatier, but she also took on the role as store manager.
Over the next several years the two realized a natural transition happening and in the summer of 2016 Antoinette took ownership of Ovedia. Antoinette plans to stay true to the Ovedia brand and it's high standard of quality and taste all the while adding her own personal touch.
Frequently Asked Questions (FAQs)
Please book in advance: All attendees MUST book in advance join a program. Many classes sell out so we recommend booking at least two (2) weeks in advance. If you'd like to join a wait list for a class, please email appletonfarms@thetrustees.org.
Program Confirmations: We do not have physical tickets for our programs. You will receive a confirmation receipt after purchasing the class and we will email you 1-2 days in advance with additional information. There is no need to bring a printed confirmation to class.  
Last minute bookings: If you're booking your ticket less than 48 hours in advance of a program, we ask that you please email appletonfarms@thetrustees.org to give us a heads up so we can alert the chef. In some cases, our chefs will need to prep several days in advance and will not be able to accommodate last minute bookings.
Program Refunds/Cancellations: In the event that a program is cancelled due to severe weather, low enrollment, or other circumstances, we will notify you as soon as possible by email and issue you a full refund within 14 days of the cancellation. If you cannot attend a program as planned, contact appletonfarms@thetrustees.org at least 7 days prior to the start of the program to receive a full refund or transfer to another date/class. Refunds and/or class transfers will not be granted for registration cancellations placed fewer than 7 days before the start of the program. There are no refunds for missed classes. Appleton Farms reserves the right to change program locations, schedules, or instructors when necessary.
Where to park: When you arrive at the farm, go right at the fork (towards Farm Offices) and park in the lot next to the Old House / Farm Offices. Enter through the front door of the white farm house (the Old House) where you will be greeted.
Buy out a class/private classes: Have a group that wants to take a class together? We have options to buy out our classes and/or create public private versions. Email appletonfarms@thetrustees.org for more information.
When:
Saturday, March 21, 2020 10-11:30pm
Prices:
TTOR Members: $28
Non-Members: $35