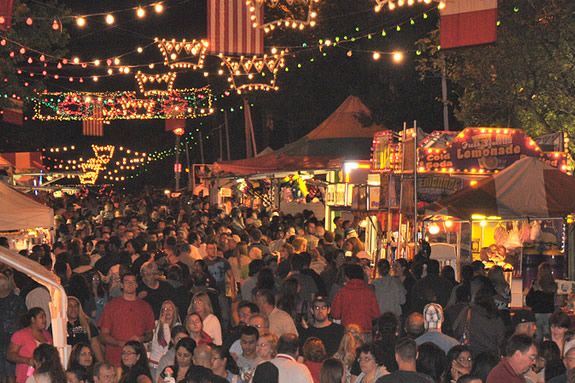 Lawrence is a city of art, culture, and history, and what better way to continue the excitement of Labor Day Weekend in Lawrence, than with the Feast of the Three Saints. In its 96h year, the annual Feast of the Three Saints in Lawrence offers music, food, and community. At the Saints Alfio, Filadelfo and Cirino Society and Lawrence Common.
The Feast is a celebration of our Italian-American heritage. For three days, Common Street from Union Street to Jackson Street is alive with music, food, people and their laughter. The Feast, now in its 96th year, draws close to 75,000 visitors from throughout the New England area (and abroad) who partake in the various events.
Red, white and green colored lights illuminate the street and all the delicious and mouth-watering Italian foods available: Cannoli, Biscotti, Italian sausage, Pizza, Arancini (rice balls) and the ever-famous Sicilian delight of the Feast: Crispelli (plain, ricotta or anchovy-filled!).
Up and down the street people meet old acquaintances and renew friendships. Children's laughter and squeals of delight fill the air as they win a toy or ride the amusements.
Friday evening begins with an opening parade of the St. Alfio Society members followed by free musical concerts at various locations. Saturday afternoon the festivities continue with musical acts, cooking demonstrations and the carnival games. Towards dusk the members of the Society gather to honor the Three Saints in the traditional Torchlight parade, ending with fireworks and the playing of the Cantata, the traditional three-part hymn in honor of the Saints.
Sunday morning there is a parade to the Church for a solemn Mass in honor of the Saints. The Mass is one of the highlights of the Feast, with the new Society candidates being sworn into the St. Alfio Society.
The Feast culminates with the procession of the Three Saints on Sunday afternoon. At exactly 3:00PM the bell rings, the confetti fires and the band play the Marcia Reale, whereupon the statues of the Saints exit the Church and are brought upon the Vara. The procession takes place under a sky of confetti and streamers. Brightly colored bits of paper take flight and surround the onlookers and their children, who race to gather the streamers.
Children are hoisted up with offerings and pay their respects to the Saints, whose radiance touches everyone present amid the cheers shouted by all: "VIVA SANT' ALFIO!".
If you have any questions about the 2019 Feast Please Contact:
Feast Co-Chairmen Mike Morley at 978-382-2407
When:
Friday, August 30, 2019, at 6:30 pm
Friday, August 30, 2019 - Sunday, September 1, 2019