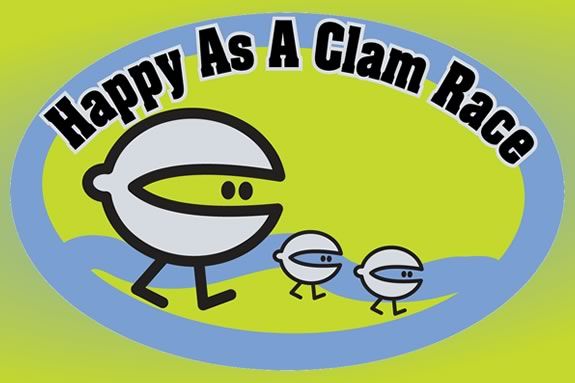 The 13th Annual Happy as a Clam race is back in 2021!  This event is open to anyone who wants to support a community school and all the wonderful enrichment programs the students enjoy throughout the year.  The 5K route meanders through the beautiful back roads of Essex.  The Kids Fun Dashes are always a hit, with even the littlest ones smiling from start to finish.  Come out, lace up, and pound the pavement for the students of EES.  It's sure to be another fun race this year!
5:00 PM - Walkers Start
5:30 PM - Kids' Fun Dashes
6:00 PM - 5K Race Start
7:00 PM - Post Race Party at Great Marsh Brew Co
Most updated information about registration, swag, course info, the post race party and prizes is available on the web page.
Free Kids' Fun Dash Info:
Registration for Fun Dashes for 2021 is through the Race Roster link above, similar to the registration process for the 5k Walk and Race. Registration will also be available at the event.
Tot Trot : Little ones under age 5 can get in on the action with a 20 yard dash on the soccer field
Kindergarten to 2nd Grade : Students in K - 2nd grade will participate in a quarter mile dash (once around EES—distance is approximate)
Third Grade to Fifth Grade :Students in 3rd - 5th grade will participate in a half mile dash (twice around EES—distance is approximate)
THE CLAM CUP : While all children are welcome to participate in the Happy as a Clam Fun Dashes, students of EES will be competing for the CLAM CUP!  The class with the greatest percentage of students participating in the dashes or 5K race will be awarded the Clam Cup trophy to keep in their classroom for the school year!
When:
Friday, September 17, 2021 6pm