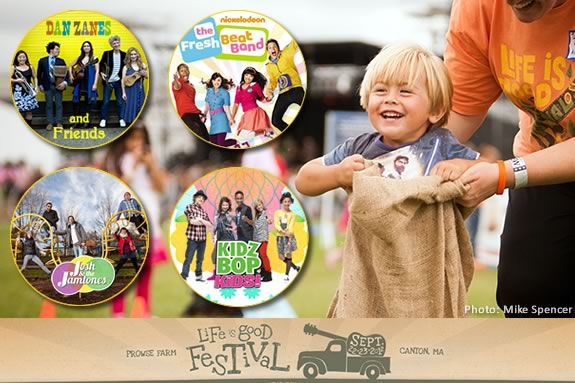 The Life is Good Festival in Canton this September has a lot of great acts performing over all weekend long, but did you know they've gone out of their way to provide special entertainment for the kids? For both days of the festival your kids will get a chance to see their favorite kid bands perform live, in addition to a lot of fun family activities that makes this festival a truly family-friendly event! 
Adults will enjoy the nationally known entertainers performing on the three main stages of the festival, and kids are invited to bring their adults to the 'Good Kids' zone featuring the top acts of children's entertainment today including: 
There are also a lot of fun things to do at the festival that will keep adults and kids entertained between sets whether you are an artist, an athlete or a little of both! Admission to the festival includes free access to all activities. Play on a parachute, test your aim with 'Bean Bag Bullseye', try out musical instruments at the Instrument Petting Zoo, catch a BMX stunt show or partake in any of the other activities including:
Sack Races
Bocce
Disc Toss
Football Fling
Face Painting
Team Tug-o-War
Kaboom!
Sand Sculptures
Comedy and Bubbles by Silly Sally
Arts and Crafts
The Art for All Mural
Magic Shows
Nature Demonstrations
Life is good has other amenities for families during the festival in Chillville - the chill out zone created specifically to provide a spot for families to relax, recharge and take care of life's necessities. The shaded environment is stocked with giant blocks, books, blankets and has special areas for nursing and diaper changing. Complimentary Sunscreen and earplugs will be available for all at the information tent.
The Life is good. Festival is also a fundraising event that challenges festival goers to raise funds for the Life is good Playmakers - a team dedicated to help kids overcome poverty, violence and illness! So pack up the troops and head to Canton for a great festival that will entertain the whole family, create a lot of smiles and help kids in need all at the same time!
When:
Saturday September 22, 2012
Sunday, September 23, 2012