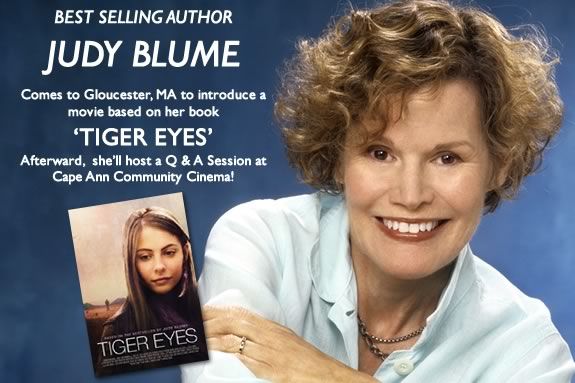 Cape Ann Community Cinema invites you to a special showing of '', based on the book by best-selling author Judy Blume!  Judy Blume will be in the theater to introduce the movie, and after the showing, will host a Q&A session. Don't miss this opportunity!
'Tiger Eyes' Movie Trailer
Judy Blum is a best-seeling author who focuses on the trials and tribulations of growing from a child into a young adult. She has written many books, with sales exceeding 80 million worldwide. Her children's books were written in conjunction with raising her preschool aged children, and as they grew, the themes in her books matured as well. Of the many titles she has published, her most well known books are , , and . She is also the founder and trustee of The Kids Fund, a charitable and educational foundation that issues grants to help disadvantaged children.
When:
Monday, July 8, 2013 7:30pm