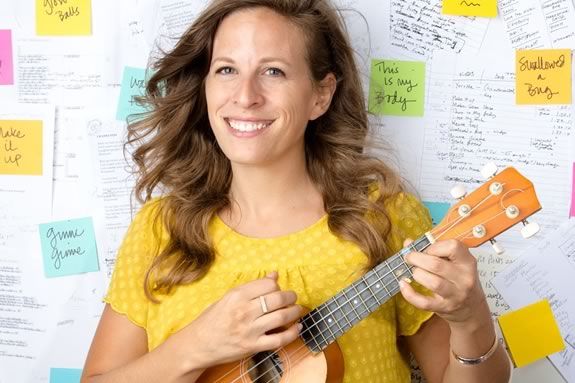 Mil's Trills is a Brooklyn-based children's music project dedicated to creating positive inclusive experiences that strive to empower and embrace young audiences and families through music. Through joyful live shows, albums and their new collaborative songwriting web series, they work to find new creative ways of bringing people together towards a peaceful global community.
​
Mils Trills is led by Amelia Robinson who writes and performs original lively tunes on her electric ukulele with the help of a rotating cast of musical guests. Together, they have released three award-winning albums; Everyone Together Now! (Parents' Choice 2014) celebrating community, Now That We're Friends… (Parents' Choice 2015) fostering friendship through open minds and compassionate hearts and their most recent album, Ridiculous Nonsense, (NAPPA, Parents' Choice GOLD) emphasizing the value of play in the creative process.
"Mil's Trills has the inexplicable ability to bring smiles to the faces of both parents and children."
Mil's Trills Official Music Video: SAY HEY! | Now That We're Friends...
Robinson is a renowned for her sophisticated work on the ukulele, which she describes as a "little instrument that evokes big smiles." One of her most notable projects involved Robinson composing and conducting a 20-minute orchestral exploration through the East End of London. She enlisted the help of 500 bicycle bell-playing participants. The Cycle Symphony received a #1 Time Out London Critic's Choice and she earned a spot on BBC Radio 1.
When:
Saturday, April 13, 2019 10:30 AM (Doors open at 10:00 AM)