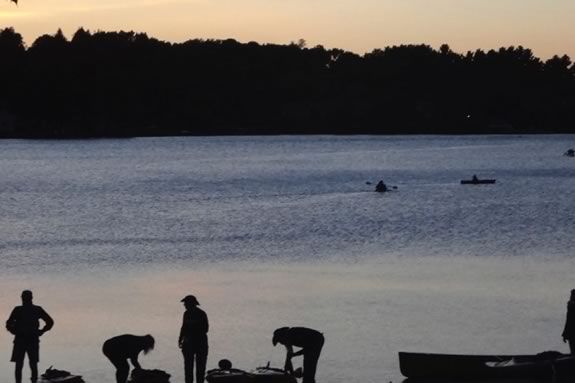 Paddle the quiet waters of the Powow and enjoy the late summer evening air! On this date an afternoon moonrise will progress to 74% of full Harvest Moon illumination at 8:46 PM. Shine on!! This provides the optimum opportunity for a beautiful moonlit paddle along the shores of the Powwow Conservation Area on scenic Lake Gardner. Starting at the recently refurbished Lake Gardner Beach, we will leisurely paddle from the placid waters of the lake into the quiet canopy of the Powow River and back.
This is a BYOB, bring your own boat, event. A life jacket for every paddler is required. Comfortable paddling attire, bug repellent and drinking water are recommended and some sort of illumination (glowstick etc.) is required for each boat in order to be seen after dark.
If clouds are predicted to obscure the moon, the timing of this event will be moved earlier to become a Twilight Paddle from 5:30-7:30.
Heavy rain or forecast of thunderstorms will cancel. Check the Lake Gardner Facebook page for the final decision!
Meets at Lake Gardner Beach
When:
Sunday, September 24, 2023 7:30-9:30pm